Background
Munch: A Retrospective Exhibit
The exhibit was open from October 27, 2018 until January 20, 2019. It featured around 60 of Munch's oil paintings, and was co-sponsored by the Norwegian Embassy in Tokyo.
Tickets ranged from 800 yen for high school students to 1600 yen for general admission.
Pikachu promo distribution
Mimikyu promo distribution
Psyduck, Eevee, and Rowlet distribution
The last 3 promo cards of this campaign were distributed by Pokemon Center retail shops. Starting from November 2, 2018, every time a customer purchased 2 booster packs at a participating shop, they would received 1 card of their choice from the 3 promos. Only 1 copy was available per person, and the purchase bonus was not available for Pokemon Center Online customers.
Other Pokemon merchandise
There were several other Pokemon-themed merchandise available to purchase both online and at the exhibit's gift shop.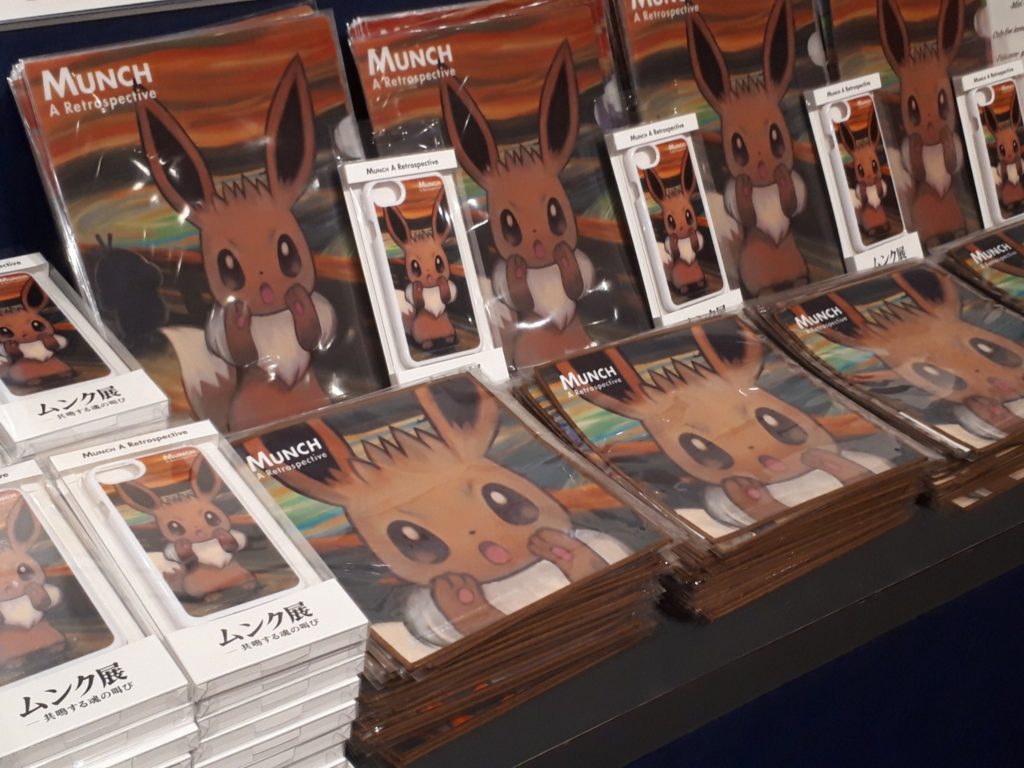 Phone cases
iPhone 6/6s/7/8 cases with designs of all 5 Pokemon were offered for sale at the exhibit. They were also available at Pokemon Centers around Japan.
Pikachu Plush
A special Pikachu plush featuring the Pokemon in the iconic "scream" position was sold exclusively at the exhibit gift shops. After these were sold out, there were no further plans to restock them. The plush's tag was printed to look like the Pikachu promo card on the front, with regular product information on the back.
Acrylic Charms
Vending machines at the museum would sell randomized acrylic charms with each of the 5 Pokemon promo card designs on them in a framed graphic. The machines would distribute these in blind capsules to attendees who purchased them.
Hankerchiefs
Hankerchiefs with each of the 5 designers were also sold at the exhibit's gift shop. These were not sold at the Pokemon Center stores.
A4 Clear Folders
Postcards
Sources