A special promo-stamped Eevee GX was released via Pokemon Medallion Battle in August 2020. Despite the game being available in multiple languages, this promo was only available in Traditional Chinese.
What is Pokemon Medallion Battle?

Pokemon Medallion Battle is a spin-off Pokémon game on Facebook Gaming developed by GCTurbo. It was released in selected Asian countries on December 23, 2019 following an open beta in the Philippines beginning on November 20, 2019. It is available in five languages: English, Malaysian, Indonesian, Thai, and Traditional Chinese.
In Pokémon Medallion Battle, two players face off with teams consisting of six Pokémon. Up to two of these Pokémon may be the Great Ball and Ultra Ball tier and Crown Pokemon (similar to legendary Pokemon) each and no two Pokémon from the same evolutionary family may be used simultaneously.
Players take turns playing Pokémon from their Bench face down; their tier is visible on the back of the medal, putting the player who goes first at a disadvantage. On the first turn, the player with the higher Rating goes first; otherwise, the winner of the previous turn goes first. After both medals are played, they are turned face up and the Pokémon with the higher CP wins the fight, scoring a point. The player who goes first wins any tie. The first player to score 3 points wins the match.
For more information on how to play the game, check out its Bulbapedia page or its official Facebook page.
Eevee Ranked Challenge
During Season 6 of Pokemon Medallion Battle's Champions cup, GC Turbo (the game's developer), announced a partnership with The Pokemon Company International to host the Eevee Ranked Challenge.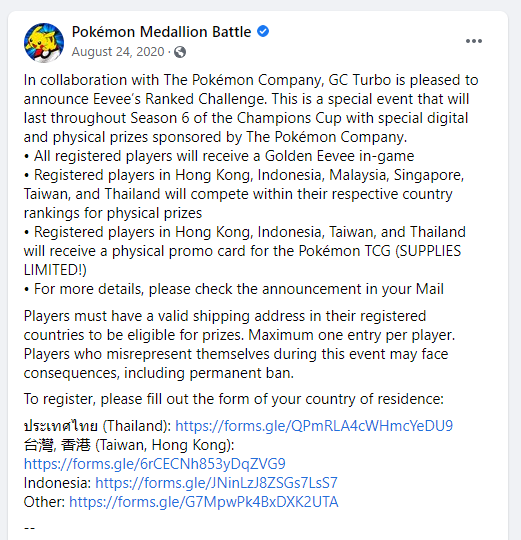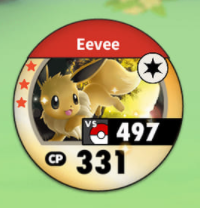 Players in each available country would have to register via Google Forms for the Challenge, and a limited number of registered players would receive the special Eevee promo card. They would also receive a Golden Eevee Medals to use in the game itself at the start of the next season. This Eevee Medal could be evolved into golden medal versions.
The challenge ended on September 30, 2020, meaning that players had around a month total to participate.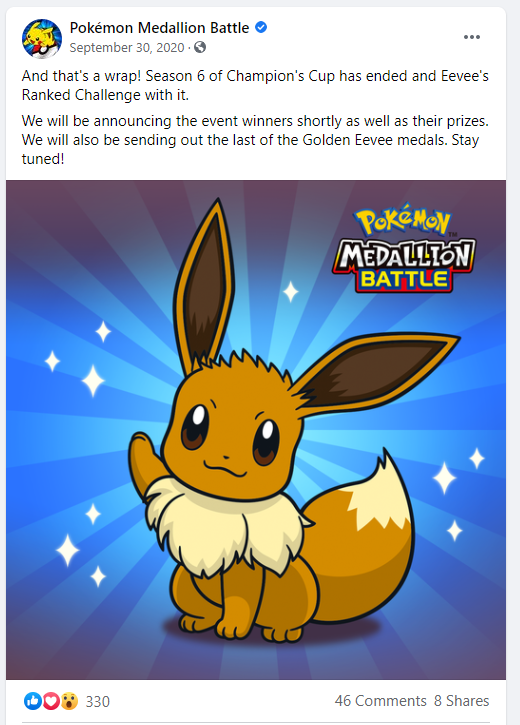 Prizes
All players who registered were eligible to claim an Eevee GX promo card. In addition, the top 50 players from each country received additional prizes.
1st-3rd:

4x TCG starter deck, 20x TCG booster pack, 1x TCG playmat, 1x TCG deck box, 3x Pokémon plush toys

4th-10th:

2x TCG starter deck, 10x TCG booster pack, 1x TCG playmat, 2x Pokémon plush toys

11th-25th:

2x TCG starter deck, 5x TCG booster pack, 1x TCG playmat, 1x Pokémon plush toy

26th-50th:

1x TCG starter deck, 2x TCG booster pack
Sources