The Battle Strength Campaign was a mail-in lottery campaign administered by CoroCoro Comic in spring 2011. There were 1000 winners of this campaign, and each one received 2 sets of 3 cracked ice holofoil promo cards. These cards were alternate art versions of the cover art cards in the Battle Strength Decks.
On March 18, 2011, the Pokemon TCG released 3 Japanese-exclusive half decks themed around the legendary Pokemon Cobalion, Virizion, and Terrakion. Known as the Battle Strength Decks, each half deck included a "How to Play Easy Guide" as well as a "Battle Strength Guide" that included tips for upgrading each of the decks.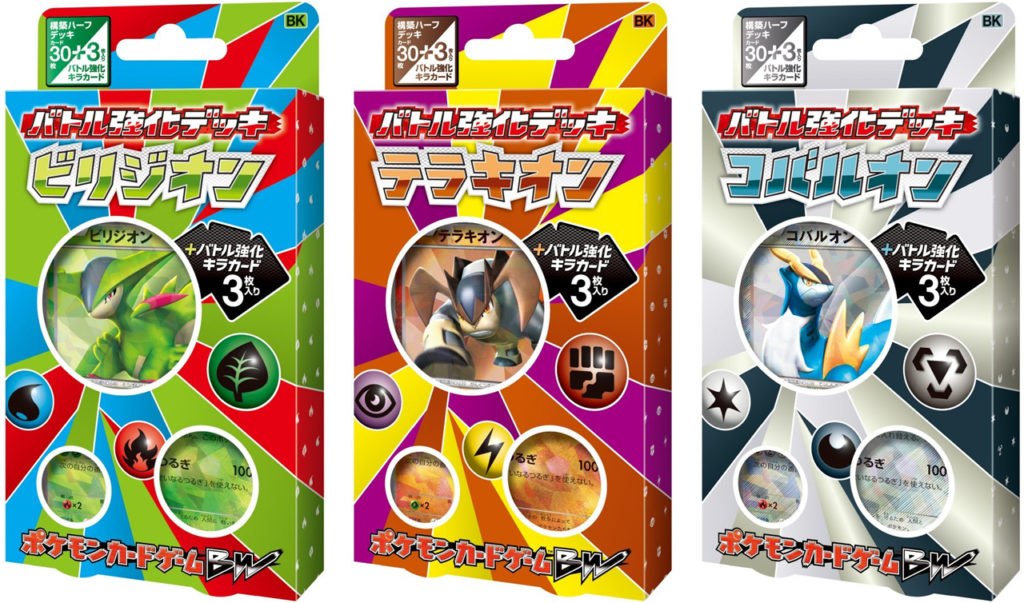 To coincide with the launch of these products, the April 2011 issue of CoroCoro Comic included a lottery campaign, known as the Battle Strength Campaign. People wishing to take part in the campaign were required to affix barcodes from 2 Battle Strength Decks to an application postcard included in the magazine and send it back to CoroCoro.
The application period was open until May 9, 2011. The rationale for requiring 2 barcodes was that players would play the decks against another friend, and that the two friends would mail in each of their barcodes to enter the lottery.
Everyone who entered the lottery would receive 2 foldable deck boxes featuring the new alternate arts of the legendary trio.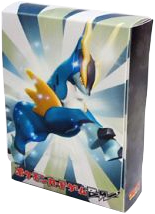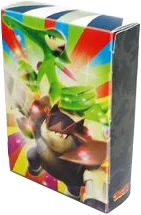 1000 lucky participants would receive 2 sets of the 3 promo cards in a sealed cellophane wrapper in addition to the two deck cases. The duplicate set of prizes were meant to give to the friend who had entered the lottery with the participant (since it required 2 Battle Strength Deck barcodes). This means in total, 2000 copies of each promo card were distributed.
The text of the letter is as follows:
「ポケモンカードゲームBW バトル激強化キャンペーン」
コロコロ限定「ビリジオン・テラキオン・コバルオン」のオリジナルカード3枚セット当選
コロコロ限定バトル強化デッキケース プレゼント送付のお知らせ

この度は「ポケモンカードBW バトル激強化キャンペーン」にご応募いただき誠にありがとうございました。

当キャンペーンには、全国から数多くの方々のご応募をいただきましたが、厳正なる抽選の結果、この度「コロコロ限定「ビリジオン・テラキオン・コバルオン」のオリジナルカード3枚セット」に当選されました。おめでとうございます。

つきましては、当選賞品である「オリジナルカード3枚セット」をお送りさせていただきます。また、ご応募いただきました皆様にもれなくプレゼントさせていただく、コロコロ限定バトル強化デッキケースも同梱させていただきました。

これからも「ポケモンカードゲーム」は、より魅力的な商品をお届けできるよう、関係者一同努力して参りますので、より一層お楽しみくださいますようよろしくお願いいたします。

2011年6月吉日 株式会社ポケモン

Battle Strength Campaign Winning Letter
Roughly translated, it reads:
"Pokemon Card Game BW Battle Super Strengthening Campaign"
CoroCoro Limited "Virizion Terrakion Cobalion" Original Card 3 Card Set Winning
CoroCoro Limited Battle Strengthening Deck Case Notice of Sending Presents

Thank you for applying for the "Pokemon Card BW Battle Super Strengthening Campaign"

Many people from all over the country applied for this campaign, but as a result of a strict lottery, you were selected as the winner of a CoroCoro Limited Virizion Terrakion Cobalion "Original Card Set of 3". Congratulations!

Therefore, we have sent you the winning prize, "Set of 3 original cards". In addition, we have also included a limited-edition battle-enhanced deck case that will be given to all applicants.

We will continue to make every effort to deliver more attractive products to "Pokemon Card Game", so please enjoy it even more.

June 2011 Pokemon Co., Ltd.

Battle Strength Campaign Winning Letter
Sources