Japan's rail system has had a long history of running promotions with Pokemon. In the summer of 2011, the Hokkaido Railway Company replaced the Pokemon Stamp Rally of years past with 2 new campaigns, the "Pokemon Survey Team 2011" (ポケモン調査隊 2011) and "Pokemon Battle Train" (ポケモンバトルトレイン 2011) campaigns.
The two campaigns released a total of 3 exclusive promo cards, and 3 exclusive jumbo promo cards. The regular-sized promo cards are especially rare due to the small time window during which to obtain them.
Pokemon Survey Team 2011
The Pokemon Survey Team campaign ran from July 30 to August 21, 2011. Each train station in the Hokkaido prefecture advertised the event with a flyer that also included a 10% off coupon for Pokemon Center purchases.
To participate, people had to purchase a "One-day Round Trip Ticket", which would allow them to ride all the train lines for the day. Purchasing this ticket would give the participant a blank sticker sheet as well as a "survey notebook". Participants had the entire event period (roughly a month) to complete this notebook.
Pokemon were "hidden" at each of the 15 train stations participating in the campaign. By visiting each participating train stations, participants would "find" Pokemon in the form of stickers for the sheet, and be eligible for prizes.
To "find" these Pokemon, participants had to answer quiz questions in their survey notebooks. The answers to each of these quiz questions was pasted at each station. Many of the questions were quite simple, but participants still had to actually go to the physical stations to claim the stickers. There were even some bonus stickers given out, such as this Oshawott, that weren't tied to any particular quiz questions.
Those who visited at least 4 stations received a Victini jumbo promo card, sun visor, and double-sided Uchiwa fan.
Those who successfully visit all 15 train stations received 2 exclusive jumbo promo cards of Reshiram and Zekrom:
Additionally, those who completed the survey and visited all 15 stations would get a chance to spin the slot machine.
This would award prizes based on the slot machine results. Prizes included:
2 Victinis – Special sticker sheet
3 Audinos – 1 Booster pack of Black & White's "Red Collection" (Black & White: Noble Victories overseas)
3 Pikachus – A choice of a Nintendo DS / 3DS Game: Pokemon Black, Pokemon White, or Pokemon Rumble Blast (3DS)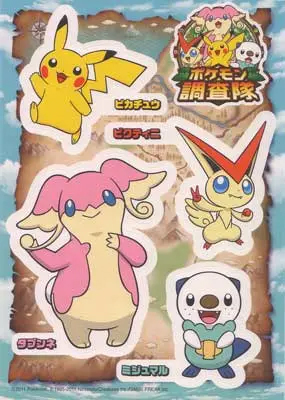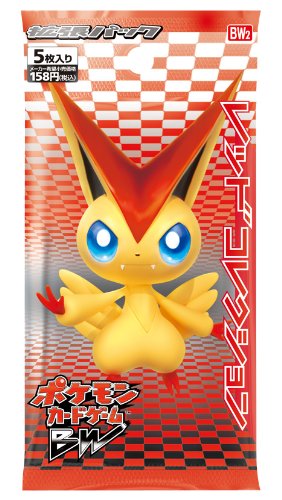 Pokemon Battle Train 2011
This campaign was aptly themed on the Battle Subway feature from the recently released Pokemon Black & White video games. On the Battle Subway, players boarded a subway line in the game and fought increasingly difficult trainer battles on each train car.
Similar to the Pokemon Survey Team campaign, the Pokemon Battle Train campaign was held from July 30 to August 21, 2011. It also required the participants to purchase the same "One-day Round Trip Ticket".
However, unlike the Pokemon Survey Team campaign, only certain parts of the Battle Train event were active at certain times. 3 train routes were featured and named after featured legendary Pokemon. Each route had a starting location, destination, and a timeframe during which it was active:
Victini Route: July 30th (Sat) -August 5th (Fri) New Chitose Airport ⇒ Sapporo
Reshiram route: August 6th (Sat) -12th (Fri) Iwamizawa ⇒ Sapporo
Zekrom route: August 13th (Sat) -21st (Sun) Otaru ⇒ Sapporo
During each of the event periods, players could bring their Nintendo DS device to the starting station between 9:30 – 16:00 local time. They would need to have a copy of Pokemon Black or Pokemon White, progressed to Nimbasa City in the game to unlock the Battle Subway, and lastly have 4 or more eligible Pokemon to use on the Battle Subway.
Players who met these requirements were able to download a special series of Battle Subway battles at each of the starting stations. These battles featured 5 trainers that the player would need to battle during their train ride, simulating the in-game Battle Subway in real life.
Each of the routes featured specific types of enemies, and was a double battle: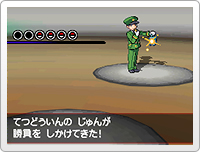 Victini Route: Flying Pokemon
Reshiram Route: Grass, Bug, and Poison Pokemon
Zekrom Route: Water and Ice Pokemon
After battling the 5 trainers, the player would be given a score out of 7 stars on how well they did. Showing this results screen to the train attendant at the destination station between 10:00 – 17:00 local time would reward the player with a promo card depending on which route was taken:

Victini Route (July 30 – August 5): Tepig
Reshiram route (August 6 -12): Snivy
Zekrom route (August 13 – 21): Oshawott
Due to the short time each of these promos was offered, they are especially rare. Tepig is the most common, and as of this article's writing (January 2022), a copy still hasn't been graded by PSA. Oshawott is the rarest card out of the 3, since its route was the last in the campaign, and by that time interest over the event had likely died down quite a bit. One of the few known online sales for the card went for 150,000 yen on Yahoo! Japan auctions.
Players who managed to clear all 3 routes received a special transparent card file (a plastic folder). Players who cleared all 3 at master rank also received a special train pass case.
Sources