In the summer of 2015, Official Pokemon Card Gyms and Pokemon Center stores across Japan would host "Umbreon Night Battle" events.
These were held weekly, from June 1 – 30, 2015, and were open to all ages. As the event name would suggest, this event was held in the evening, and most locations would start the even around 5-6 PM local time.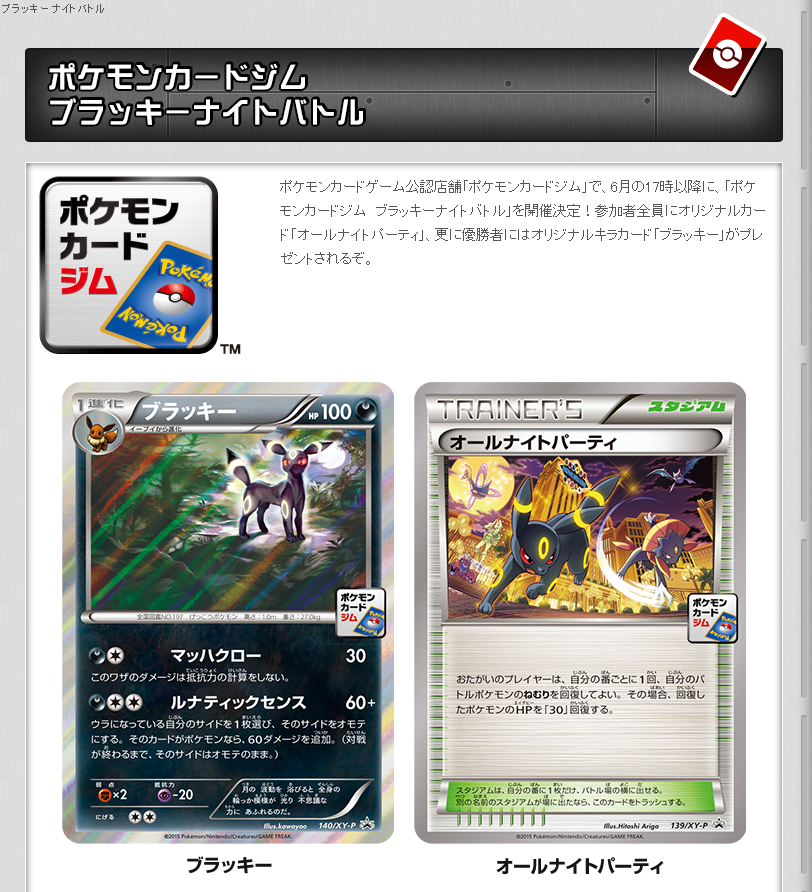 Players would bring 60-card decks and play games with 6 prizes with standard XY era regulations. All participants of the event would earn an exclusive "All Night Party" promo card.
Players would play a round-robin tournament, and then the top 4 players would advance to the finals. The 1st place winner of the tournament would earn a holofoil Umbreon promo card.
Because each store only ran the event once a week, this meant that every store would only issue 4 total Umbreon promo cards during the month that the campaign was active. Due to the scarcity of the card, the price of the card in the secondary market is quite high. Below are a list of the 39 prefectures that had stores that ran the event:
Hokkaido
Aomori Prefecture
Iwate Prefecture
Miyagi Prefecture
Akita
Fukushima Prefecture
Ibaraki Prefecture
Tochigi Prefecture
Gunma Prefecture
Saitama
Chiba prefecture
Tokyo
Kanagawa Prefecture
Niigata Prefecture
Yamanashi Prefecture
Nagano Prefecture
Gifu Prefecture
Shizuoka Prefecture
Aichi prefecture
Mie Prefecture
Shiga Prefecture
Kyoto
Osaka
Hyogo prefecture
Nara Prefecture
Wakayama Prefecture
Okayama Prefecture
Hiroshima
Yamaguchi Prefecture
Tokushima Prefecture
Kagawa Prefecture
Ehime Prefecture
Fukuoka Prefecture
Saga Prefecture
Nagasaki Prefecture
Kumamoto Prefecture
Oita Prefecture
Miyazaki prefecture
Kagoshima prefecture
At the time, there were also 7 active Pokemon Center stores in Japan, each of which would host weekly Umbreon Night Battle tournaments during June 2015. Assuming that every prefecture had around 4 Pokemon Card Gyms on average (with some like Tokyo having more, and smaller ones having less), it's possible to roughly estimate the distribution of this Umbreon card.
(39 prefectures * 4 Pokemon Card Gyms per prefecture) + 7 Pokemon Centers = 163 event locations
4 events (and thus 4 winners) run during June 2015's 4 weeks
163 event locations * 4 weeks = 652 estimated copies.
It is safe to conclude that there are probably under 1000 copies of this card, and most definitely under 2000.
Sources