Continuing from 2002 Battle Roads was the 2003 tournament circuit. Similar to the previous year's tournaments, Battle Road 2003 was divided into 3 age groups: juniors (elementary school), seniors (junior high to high school), and masters (16 years and older) divisions.
There were 3 Battle Road circuits: Battle Road Spring, Battle Road Summer, and Battle Road Autumn. The spring tournaments fed into the summer ones, which hosted the Best in Japan national finals. The autumn tournaments were smaller, meant to tide players over until the next year's spring circuit resumed.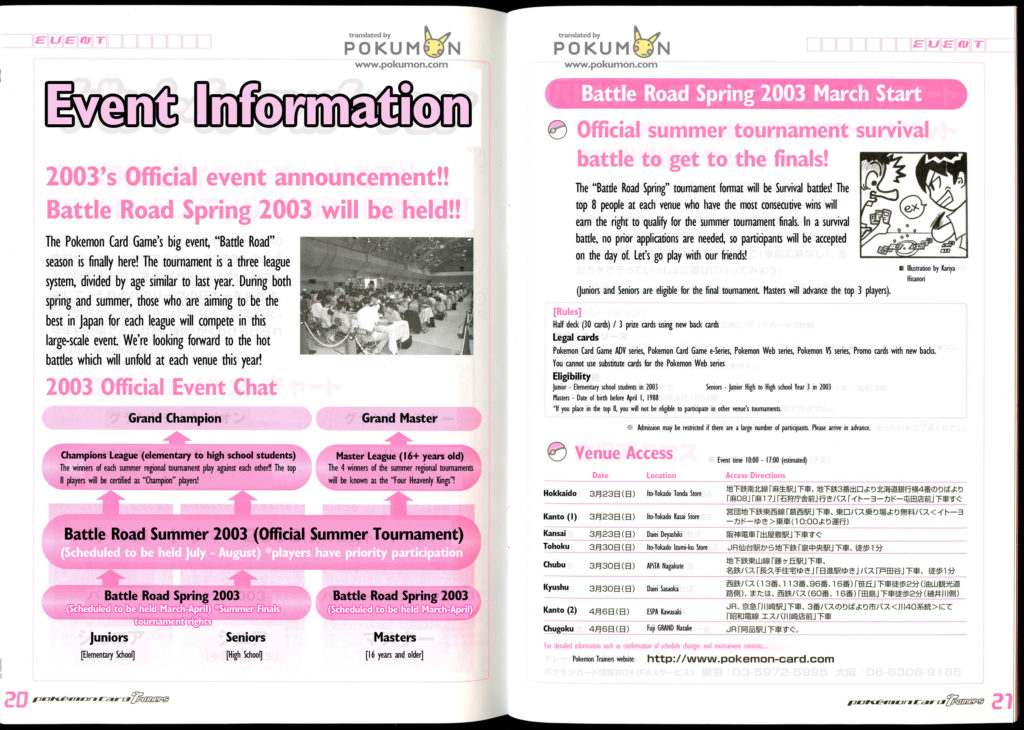 Unlike the previous regional and national circuits, Battle Road 2003 did not feature No.1 – 3 Trainer trophy cards for winners. Instead, winners received newly printed Victory Ring and Victory Orb promo cards, depending on which season they won in. These promos would be issued again to winners in 2004, though in a slightly different manner.
2003 was the only year in the Pokemon TCG's history that there was no international world championships. This was due to the license transferring from Wizards of the Coast to The Pokemon Company, which caused issues with international coordination required for the event. The World Championships would resume in 2004, ran for the first time by The Pokemon Company International.
Tournament Structure
The Battle Road Spring 2003 tournaments allowed players to earn entry into the Final Tournament later in the year at Battle Road Summer 2003. Because of this, it did not have the traditional Qualifying tournament and Final Tournament structure from previous years, and instead had a format called "Survival Battle".
Battle Road Summer and Autumn had similar tournament structures as previous years. Each regional tournament was split up into a Qualifying Tournament and a Final Tournament. The Qualifying Tournament would serve to cut the large amount of attendees down to a final top cut.
Players were split into 3 age group "leagues":
Junior Players League: Elementary school students (Born April 2, 1991 – April 1, 1997)
Seniors Player League: Junior high school students & high school students (born April 2, 1985 – April 1, 1991)
Masters Player League: Players aged 16+ (born before April 1, 1988)
Masters league players had their own separate track during the 2003 tournaments, with less players proceeding to the finals.
Allowed cards

Players played their games with 30-card half decks and 3 prize cards. This was meant to facilitate faster games during the event. Legal cards for the tournaments were:
e-Series cards (Expedition through Skyridge English equivalent)
Pokemon Card ★ Web series
Pokemon Card ★ VS series
ADV series cards (EX Ruby Sapphire & Onwards English equivalent)
Any promo cards with the new card back
Even though the Pokemon Card ★ Web series cards were reprints from older sets, players were not allowed to use the original printings, as they had old card backs.
The tournaments used the the standard banlist of Non-Japanese cards and cards that weren't allowed in official tournaments. The "Hall of Fame" ban lists used during the 2001-2002 tournaments were no longer relevant, as official tournaments no longer allowed cards with old card backs.
Battle Road Spring 2003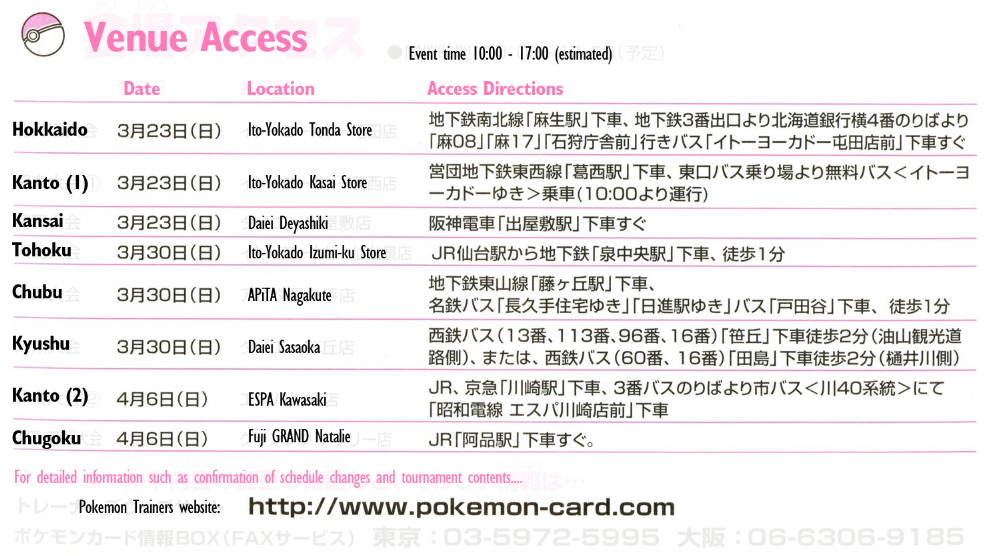 Hokkaidō tournament: Ito-Yokado Tonden, Sapporo on March 23, 2003.
Kantō (1) tournament: Ito-Yokado Kasai, Tokyo on March 23, 2003.
Kansai tournament: Daiei Deyashiki, Amagasaki on March 23, 2003.
Tōhoku tournament: Ito-Yokado Izumi-ku, Sendai on March 30, 2003.
Chūbu tournament: APiTA Nagakute, Aichi on March 30, 2003.
Kyūshū tournament: Daiei Sasaoka, Fukuoka on March 30, 2003.
Kantō (2) tournament: ESPA Kawasaki, Kanagawa on April 6, 2003.
Chūgoku/Shikoku tournament: Fuji GRAND Natalie, Hiroshima on April 6, 2003.
Survival Battles
These events used a unique tournament structure called "Survival Battle" that was only seen in the Battle Road Spring 2003 tournaments. Even the later summer and autumn tournaments in the same year would go back to using the usual Qualifying & Final Tournament structure. The survival battle format allowed more players to play in the tournament compared to the traditional format.
Survival battles were a free-for-all format where players would face each other with 30-card half decks of their own design. They would play a single 3-prize match, and record the winner as well as how many prizes were taken. Each match would then be certified by a staff member with a stamp on the player's tracking sheet.
The goal of the survival battle tournament was to get the longest streak of consecutive wins. If a player lost a game, they would reset their streak and have to start again. This incentivized players to play quickly to have as many opportunities as possible to get the longest streak.
The 8 players with the longest win streaks at each regional tournament each received a Victory Ring promo card in a customized portfolio and certificate. This certificate featured the player's ranking, as well as how long their win streak was. They also received a T-shirt with the event's logo on it.
In previous years, winners received trophies at the regional events, and were later mailed their customized No.1 – 3 Trainer cards with their names and regional event printed onto them. Because Battle Road 2003's "trophy" promos were not personalized (only the paper certificates were), winners were able to get the cards at the event itself.
The top 8 winners would each receive an invite to the Final Tournament stage of the regional Battle Road Summer 2003 tournament happening later in the year. Winners only received an invite to tournaments in the same region that they had won in, and winning an invite in one region banned them from participating in another Battle Road Spring 2003 tournament.
Battle Road Summer 2003
Battle Road Summer 2003 events took place during the Pokemon Festa 2003, a nationwide summer celebration that included both the video game and TCG's national championships. Pokemon Festa was held at 9 venues around Japan from July 19 – August 24, 2003. Though The Pokemon Festa events were held on multiple days at each location, the regional Battle Road Summer tournaments would only occur on one of those days.
Hokkaidō tournament: Sapporo Community Dome, Sapporo between July 19-20, 2003. Battle Road Summer was held on July 20 only.
Chūbu tournament: Port Messe Nagoya, Nagoya between July 26-27, 2003. Battle Road Summer was held on July 27 only.
Shikoku tournament: Sun Messe Co., Ltd., Takamatsu on August 1, 2003.
Kansai tournament: Intex Osaka, Osaka between August 2-3, 2003. Battle Road Summer was held on August 3 only.
Kantō A tournament: Saitama Super Arena, Saitama on August 6, 2003.
Kantō B tournament: Pacifico Yokohama, Yokohama between August 9-10, 2003. Battle Road Summer was held on August 10 only.
Tōhoku tournament: Shellcom Sendai, Sendai on August 16, 2003.
Chūgoku tournament: Hiroshima Sun Plaza, Hiroshima on August 20, 2003.
Kyūshū tournament: Marine Messe Fukuoka, Fukuoka between August 23-24, 2003. Battle Road Summer was held on August 24 only.
Pokemon Card Fan Promo
Qualifying Tournament
Games during the Qualifying Tournament followed these rules:
New card back cards only
30-card decks
3 Prizes
Up to 2 cards with the same name in each deck (excluding basic energies)
The first player cannot play Supporters on their first turn
Final Tournament
Players in the Final Tournament would play through a single-elimination tournament with full 60-card decks in 6-prize games. They played with the following rules:
New card back cards only
60-card decks
6 prizes
Up to 4 cards with the same name in each deck (excluding basic energies)
The first player cannot play Supporters on their first turn
The top 3 winners of each regional Battle Road Summer 2003 would receive a Victory Orb promo card, presented with a certificate in a portfolio similar to the ones given out to winners in the spring tournaments.
Juniors and seniors league regional tournament winners also won the right to participate in the next year's Final Tournament at Battle Road 2004.
Champions League 2003
Regional winners were invited to compete in Champions League tournaments, which were the equivalent to a national championship tournament. This would be held later in the summer on August 30, 2003 at the Naeba Prince Hotel in Niigata, Japan. This event was a round-robin tournament to determine the best in Japan.
The top 4 winners at this event were given the title "Junior / Senior / Master Four Heavenly Kings". The champion of each league was known as the "2003 Junior Grand Champion", "2003 Senior Grand Champion", and the "2003 Grand Master". The champion players earned an invite to next year's 2004 Champions League events.
Battle Road Autumn 2003
A smaller tournament circuit would cap out Battle Road 2003 from October 11 – November 30, 2003. This circuit would only span 3 locations in Tokyo, Osaka, and Nagoya.
Kantō tournament: Toshimaen Park, Tokyo between October 13, 2003. The Battle Road Autumn tournament for this region was held on the last day of the Toys R' Us Toy Festa 2003, which ran from October 11-13, 2003.
Kansai tournament: Umeda Center Building, Osaka on November 23, 2003.
Chūbu tournament: FLEX Building, West Pavillion, Nagoya on November 30, 2003.
The Final Tournament was held in a traditional manner, with 60-card decks, 6 prizes, and 20 minute time limits (besides the finals, which had 30 minute time limits). A playoff match would be held to determine third place, and the top 3 winners would get a Victory Ring promo identical to the ones distributed at Battle Road Spring 2003 events earlier in the year.
Unlike the Spring events, which award the Victory Ring promo to the top 8 of each region, only the top 3 at each autumn event received one, and there were only 2 divisions (juniors and seniors-masters). This makes the autumn version far more rare, but since they are identical to the ones distributed in the spring, the only way to tell is by the certificate and portfolio that came with the card.
Side Events (Corners)
Battle Road events continued to feature side events (known as "corners") in addition to the main official tournament. Some of these side events also distributed their own exclusive promo cards.
Starter Deck Battle
Point Get Battle
Participants competed for points within a set time limit. Players could choose to play in 30-card half deck, 60-card full deck, or 60-card full deck 2v2 leagues. Points were accumulated by winning games, which could be traded in for prizes. For the Battle Road Summer 2003 events, these were 2 promo cards, as well as a special card box.
Teaching Corner
As with almost all previous official tournaments, this corner was where people of all ages (including parents) could learn how to play the Pokemon TCG from staff members. Joining the Pokemon Player's Club and learning how to play at this corner would also reward you with 50 EXP points.
Participants would also get the "Pokemon Card Game Official Guide 2003" and a Pichu badge. The guide contained things like promotional material, how to play guides, and a visual card checklist of the current sets.
Double Battle League
This was a 60-card 2v2 tag team tournament. Participants received the same Chimecho promo card that was given out for the Point Get Battle event. Winners were also eligible to win a bandana and collectible badges similar to those given away with the Start Deck Battle.
New Kangaskhan Tournament
Repeating from 2002's events, this 2v2 tag tournament gave participants a set of 2 Touch Generation Change! cards that were previously given away at the 2002 Battle Road events. Players had to bring a partner, and each person would either have a 30-card new cardback deck, or a 30-card old cardback deck. Prizes included bandanas, collectible badges, and wristbands.
Challenge PCL & Gym Leaders
2003-2004 Victory Ring & Orb Population
Given the known information on tournaments during Battle Road 2003 & 2004, it's possible to estimate out the total amount of these cards that were distributed to winners.
The 2003-2004 Victory Ring had 291 copies officially distributed during 4 events:
The 2003-2004 Victory Orb had 153 copies officially distributed during 2 events:
Sources