Continuing the tradition of an annual spring and summer tournament circuit, Pokemon announced Battle Road 2002. These tournaments continued the structures set in place by previous tournaments like Challenge Road 1999, World Challenge 2000, and Neo Spring / Summer Road 2001 with a few differences.
Starting from 2002, the major regional tournaments would all rebranded into "Battle Roads", doing away with the unique tournament circuit names of years past. This branding would be re-used from 2003 – 2009, after which the tournament series was rebranded again. The event logo for 2002's tournaments would feature the Generation 2 starter Pokemon final evolutions: Typhlosion, Meganium, and Feraligatr.
Tournament Structure
Battle Road 2002 was the first year that the tournament circuit would be open to all ages. In previous years, only children in elementary and junior high (up to age 16) were eligible to participate in the juniors and seniors divisions. Battle Road 2002 introduced the "Masters" league, open to all players ages 16+.
Entry
Both the spring and summer tournaments required players to pre-register to be entered into a lottery. Each venue had its own specific lottery, which could be entered either via mail or from the official Trainers website.
If players entered via mail, they would able to cut out a small piece of the magazine, known as the "BR Application Ticket" and include it with their postcard application. This magazine piece would give them preferential treatment in the lottery. Since only Pokemon Fan Club members received the Trainers magazine, this preferential lottery was only available to Pokemon Fan Club members.
Both the spring and summer tournaments also offered players the chance to win guaranteed entry into the regional tournaments via a "player representative" spot. To earn this spot, players had to be selected by their local "Official Gym", which were local game stores part of Pokemon's officially licensed network.
Each store had different criteria for how to earn this spot, but likely it was a prize for doing well in the regular weekly tournaments over the course of a league.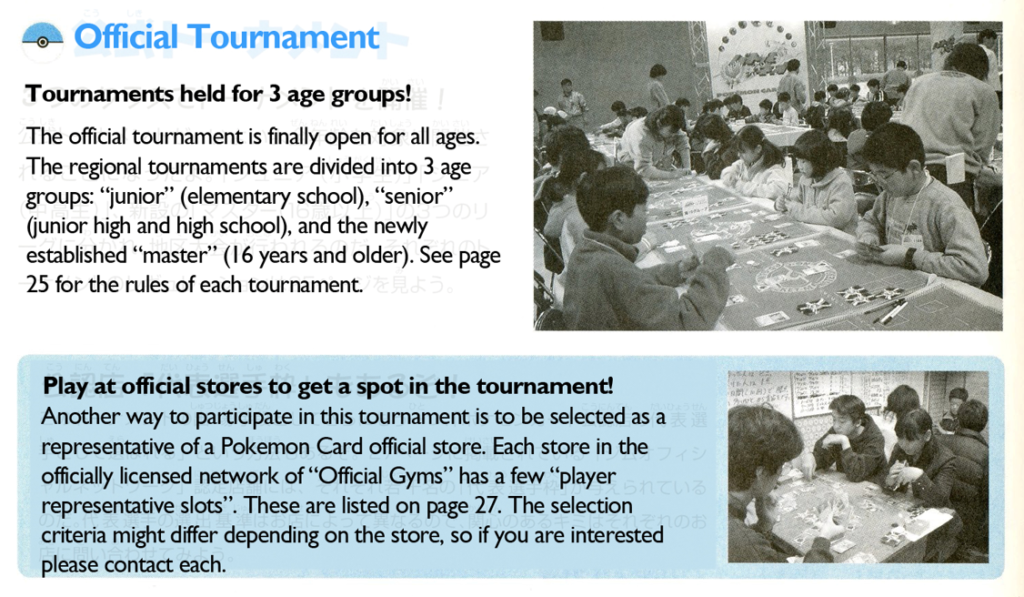 The summer tournament offered an additional way to guarantee entry: placing in the top 3 of a Battle Road Spring 2002 regional tournament.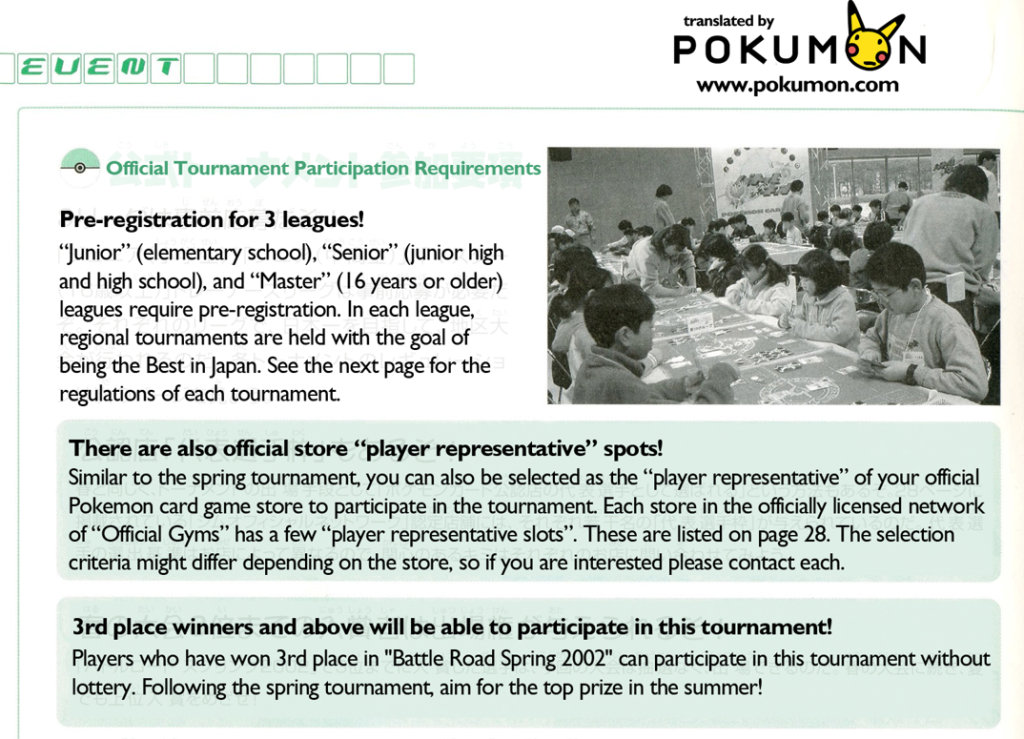 Qualifiers & Final Tournament
Similar to previous years, each tournament had a qualifying round before the main tournament. This qualifier round was meant to cut down the total number of participants for the main tournament.
Deckbuilding
Players had to bring both a 30-card deck and a 60-card one. The qualifier would be played with the smaller 30-card deck, while the Final Tournament would use the full 60-card one.
The 2002 tournaments were held at a transition point in the Pokemon TCG's history. Cards with the new back design had begun to be printed with the Pokemon eSeries release, but many players still had cards from 1999 – 2000 with the old card back.
To facilitate this transition, Pokemon allowed players to mix-and-match the old and current back cards with various restrictions and changes.
The 30-card decks for the qualifiers in all age groups had to use only current back cards. The 60-card decks used for the Final Tournaments players to mix old and current back cards. If a player was playing without card sleeves, they had to have 30 cards from each card back design. Those playing with sleeves were allowed to use any ratio of cards.
Hall of Fame System
Battle Road 2002 utilized Neo Spring & Summer Road 2001's Hall of Fame system to restrict deckbuilding and promote a more balanced metagame. The cards on the Hall of Fame list were all old back cards, and were assigned a star rank of 1 – 4 stars.
Players were allowed to have a total star count of 4 stars in their deck. This meant that they could run a single copy of a 4-star card, two different 2-star cards, or any combination of cards that totaled 4 stars.
Battle Road Spring 2002 List
The spring tournament had Hall of Fame a list for juniors and seniors. This list was a much smaller version of the list that masters league players used.
The masters league expanded this list greatly, added numerous cards from older sets since they were allowed in their division's Final Tournaments.
Battle Road Summer 2002 List
The summer 2002 tournaments didn't have a Hall of Fame list for the junior and senior divisions, as by the summer, those divisions no longer allowed old back cards. However, the masters league still allowed them.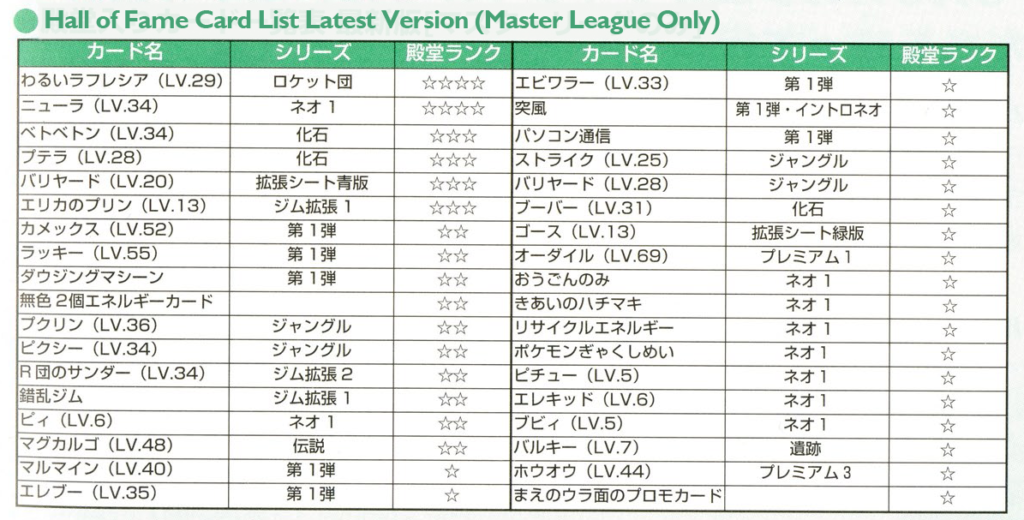 Several cards changed in ranking with the updated list, which are highlighted (green means moving up a tier, red means moving down, and purple means new to the list.).
Allowed Cards
In the Final Tournament, the card pool differed between the juniors / seniors league and the masters league. Masters league players had a greatly expanded set of cards that they were able to use, with all old back cards (with some severe restrictions) allowed for play. These old back cards were subject to the "Hall of Fame" system.
Modified Cards
Several old back cards were also modified to make them balanced when playing with the current back cards. Many of these were trainer cards that were converted to Supporters, meaning that only one could be played per turn.
Battle Road Spring 2002
The 2002 Battle Roads were the final events that issued No.1 – 3 Trainer cards customized with the winner's name and regional tournaments. Starting with Battle Road 2003, winners of the regional tournaments would be given un-personalized trophy cards instead.
Similar to the Neo Spring / Summer Road tournaments in 2001, these trophy cards were different for boy and girl winners.
As the winners for the tournaments was published in the Trainers magazines, it is possible to find the exact number of each boy or girl numbered trainer trophy card distributed for the Battle Road Spring 2002 tournaments.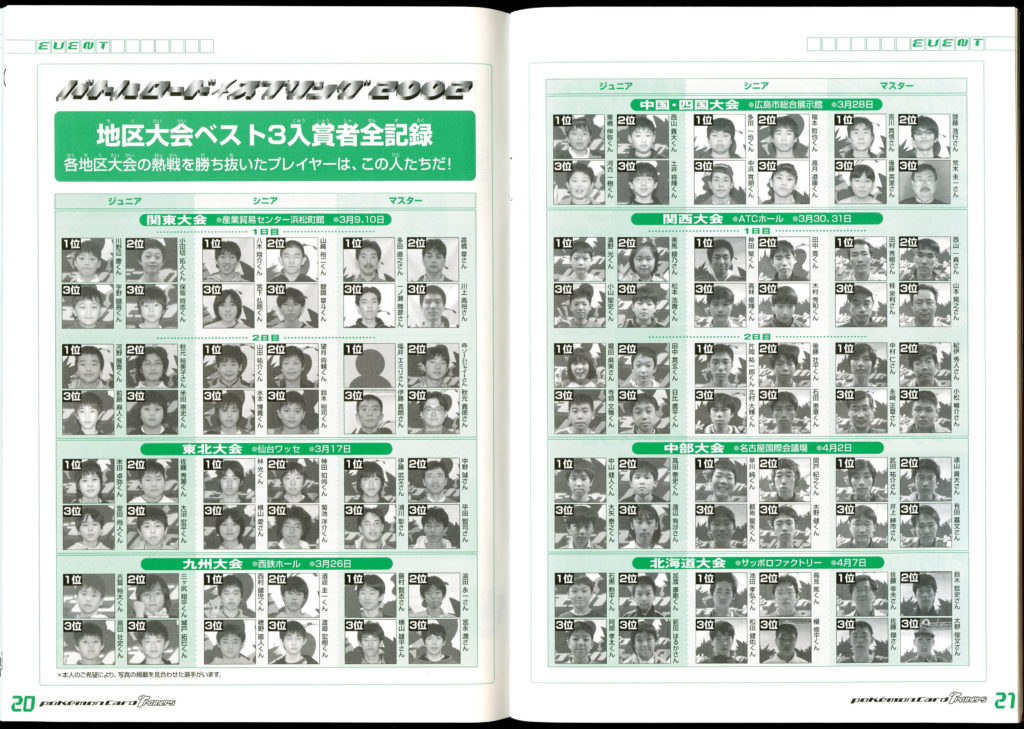 No. 1 Trainer : 1-2 girl(s), 25-26 boys.
One winner does not have a photo and as a masters league player, the suffix is genderless.
No. 2 Trainer : 2 girls, 25 boys
No. 3 Trainer : 4 girls, 50 boys

Battle Road Summer 2002
Side events at Battle Road Summer 2002 also rewarded players with points. These points could be traded in for prizes such as card sleeves, Imakuni?'s signature, and one of 3 holographic promo special energy cards.
Additionally, attendees who brought a voucher from page 21 of Trainers Magazine Vol. 17 were able to receive 2 promotional "Touch Generation Change!" cards at this event. These were used to play in the New Kangaskhan Rule tournament, and could also be claimed by mail after the event.
Those who made it through the qualifiers and final tournament were brought on stage to receive their prizes. The stages at the summer tournaments were much larger and grand than the spring tournaments, with enough room for finalists to play on stage in front of spectators.
Similar to the spring tournaments before them, winners received personalized No.1 – 3 Trainers depending on their placement.
These winners were again published in Trainers Magazine. From this, we can calculate how many copies of each No. 1 – 3 Trainer cards were distributed from this event.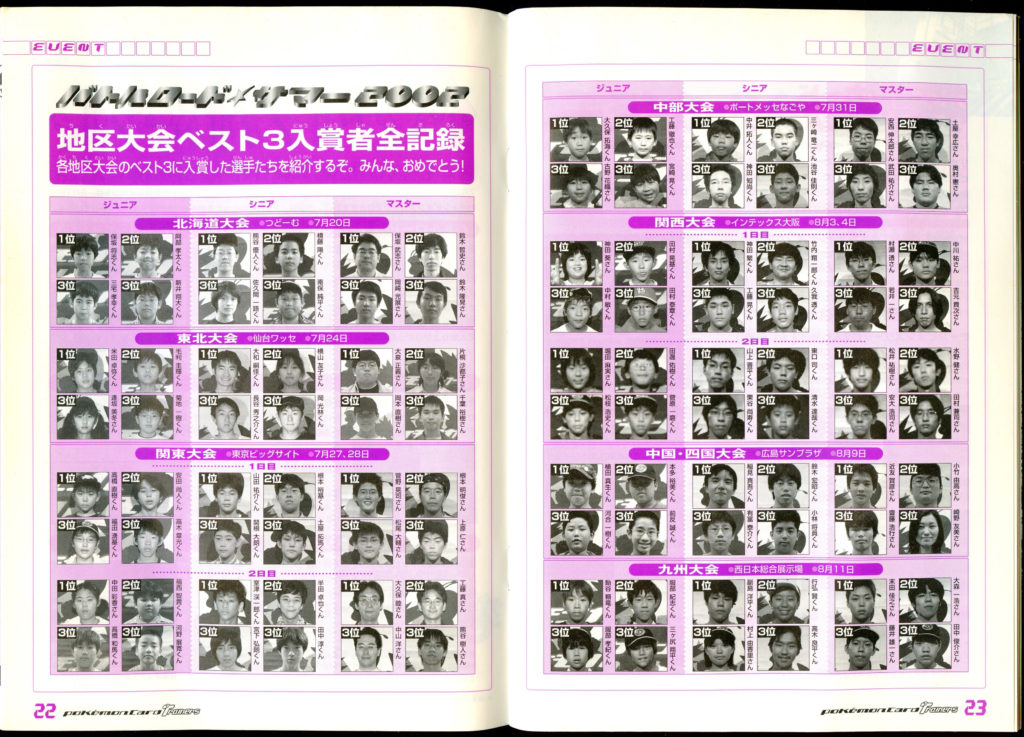 No. 1 Trainer : 3 girls, 24 boys.
No. 2 Trainer : 1 girls, 26 boys
No. 3 Trainer : 4 girls, 50 boys
Post-Battle Road 2002 Events
There were several tournaments after the regional tournaments. These would be both national-level within Japan, and international.
Best in Japan Battle
As was customary after the regional summer tournaments, a national championships for junior, and senior age divisions was held on August 17, 2002 in Hamamatsucho, Tokyo.

The 9 junior league and 9 senior league 1st place winners from each regional tournament were invited to compete. Games were played with full 60-card decks in an 8 match round-robin tournament, meaning that each player faced each other once. Points were awarded based on match record for each game, and these were totaled up to determine final placements.
With the introduction of the masters league, an additional "Grand Master League" event was held for the regional winners of the 16+ division. The top 4 winners of this were crowned as the "Four heavenly kings" (known in English as the Elite Four).

2002 was the only year that the "Grand Master League" was held, as starting from 2003, the top 4 winners of the Champions League events would be crowned the "four heavenly kings" instead. These 4 winners were each given a trophy card with their photos on them.
The only known photo of this card is a second place trophy. It's possible that each card had identical art with the photo of the 4 winners, but the text denoting the placement at the top was different.The trophy has a eSeries format border, but has no barcode to scan.
International Tropical Mega Battle 2002
As with previous years, junior league winners were invited to Hawaii, USA to compete in the International Tropical Mega Battle 2002.


This event was the final Tropical Mega Battle ever held, as the World Championships would begin in 2004 (after 2003's licensing fight with Wizards of the Coast).
5th Champions League
Since being established after the Champion Road 2000 event, the Champions League has occurred every year. Champions from the current and previous years are invited to compete against each other to determine a "true champion.

In 2002, this occurred on August 18 in Tokyo. The eventual winner was Toshiki Ohara, a winner from the 2001 Neo Spring Road tournament.
No.1 – 3 Trainers
The numbered trainers from Battle Road Spring & Summer 2002 were the final No.1 – 3 trainers given away at a regional level. Starting in 2003, the numbered trainer trophy cards would only be given to winners of world championships.
In total, we can add together the spring and summer tournament numbers to get a view of how many total trainers of each gender were issued.
No. 1 Trainer : 4-5 girl(s), 49-50 boys. (54 total)
One spring winner does not have a photo and as a masters league player, the suffix is genderless.
No. 2 Trainer : 3 girls, 51 boys (54 total)
No. 3 Trainer : 8 girls, 100 boys (108 total)

The scanned barcodes reveal special "words of humor" from Imakuni?. His sprite in the video represent the silver costume he wore for these tournaments.
Side Events
Like the previous year's tournaments, Battle Road 2002 featured multiple side events at both the spring and summer tournaments.
Since the summer tournament was also held at Pokemon Festa 2002 locations, there were more side events available at the summer events. The summer official tournament and side events also awarded points, which could be traded in for prizes.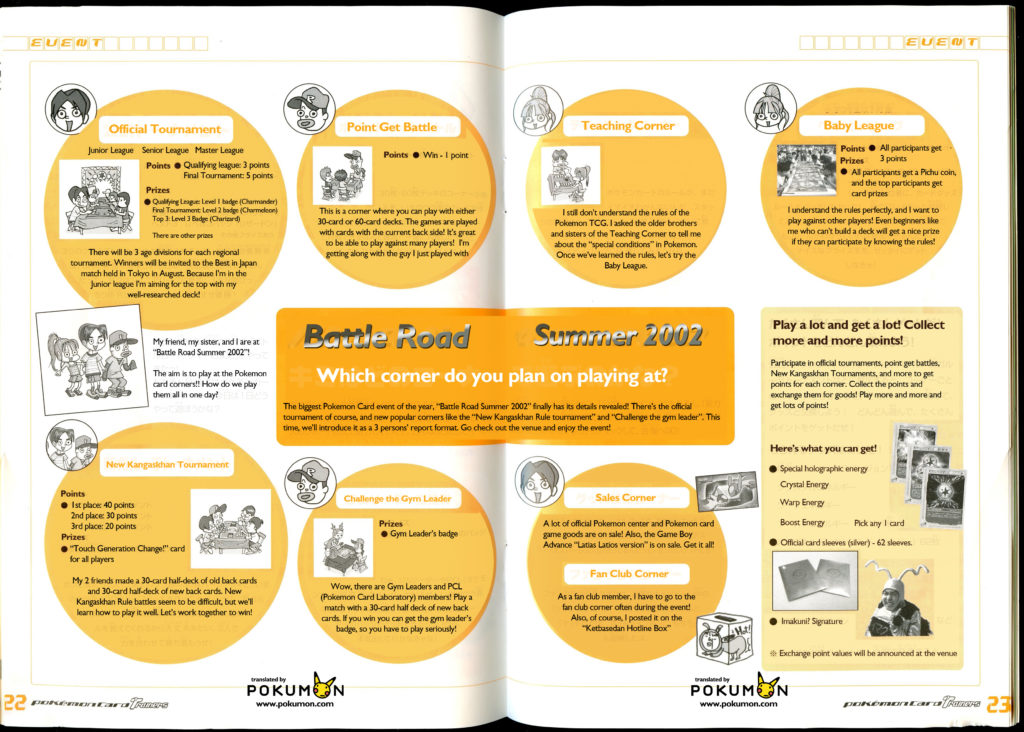 Players Gym
Available at: Battle Road Spring 2002, Battle Road Summer 2002

Players Gyms were attendee-run side events. Local play groups could organize their own "gyms" with rules and challenges for other attendees to play through. Helping run a Players Gym as a Fan Club member would gain extra GET points.
Dodrio Team Battle
Available at: Battle Road Spring 2002

This side event was a 3v3 tag team tournament, with no age restrictions on who could play together. Each of the 3 players on each team would use a 30-card half deck built to the same rules as the qualifiers for the official tournament (only current back cards). After a 3-round qualifying tournament, a final tournament would be played with 60-card decks.
New Kangaskhan Rule Battle
Available at: Battle Road Spring 2002, Battle Road Summer 2002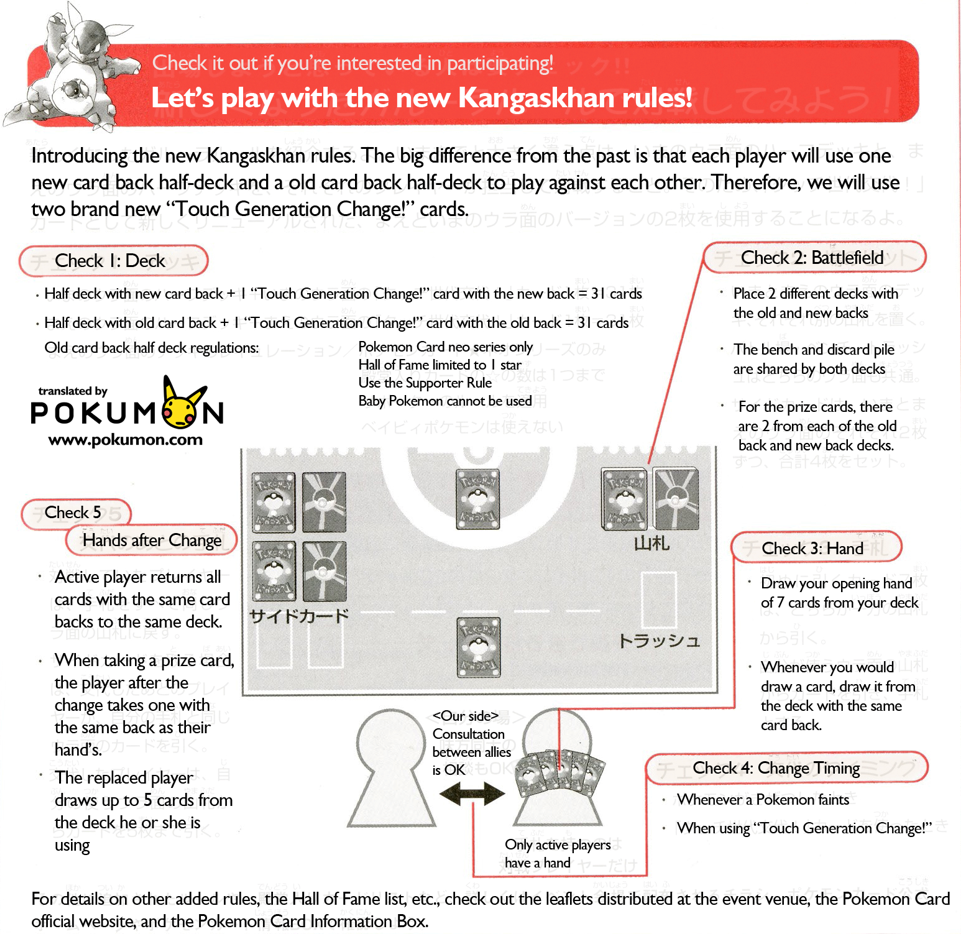 This side event was a 2v2 tag team tournament that had each team construct 2 decks: one with only old back cards, and another with only current back cards. This side event had its own restrictions on cards allowed in each deck.
Players would use 2 special trainer cards to switch places during the match. These were provided to players during the side event if they were competing.
Free Battle
Teaching Corner
Baby League
Challenge the Gym Leader
Sales Corner
Fan Club Corner
Available at: Battle Road Spring 2002, Battle Road Summer 2002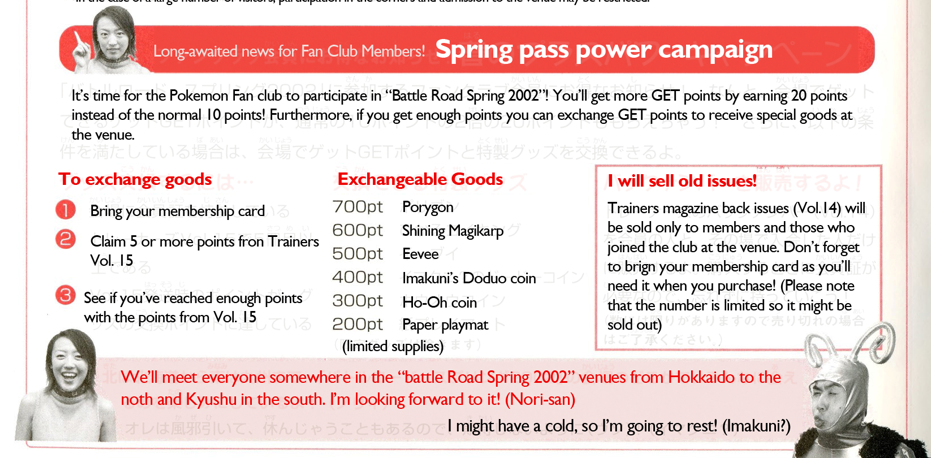 As with all large official tournaments, there was a corner for the Pokemon Fan Club so new players could register as members, and existing members could get additional GET points for visiting. Players were also able to directly redeem points here while supplies lasted instead of having to mail things in.
Legacy
Battle Road 2002 was the last year that regional winners were issued personalized cards. In Battle Road 2003 and onwards, winners were given non-personalized trophy cards, the Victory Ring and Victory Orb.
In addition, this tournament was the final year that the competitive TCG rules allowed the usage of cards with the old card back. From 2003 onwards, all cards had to use the new cardback, effectively retiring all the cards printed from 1996 – 2001. This also effectively retired the "Hall of Fame" system used to balance the usage of the old back cards.
Sources