Following the success of the 1998 tournaments, The Pokemon TCG launched a new, larger tournament circuit series in 1999.
This article will focus on the regional Challenge Road 1999 Summer / Battle Road 1999 Autumn events, as those were the feeder events for the national and international tournaments.
1999 – 2000 "Grand Party" Campaign
The "Passport Challenge" was introduced by the Pokémon Fan Club as part of this campaign for to those who attended the Challenge Road '99 Summer events between July and August 1999. Participants were given a challenge passport to record details (by writing them down) of any battles conducted during the Grand Party 1999-2000 campaign, covering Challenge Road 1999 Summer, Battle Road 1999 Autumn, and Champion Road 2000.
Upon recording the details of 50 matches they'd viewed, they received the Trainer Certification Card (more commonly known as the "Grand Party" card) as a reward after mailing the passport in.
Players who completed the Passport Challenge also received an invite to the Champion Road 2000 event.
Challenge Road 1999 Summer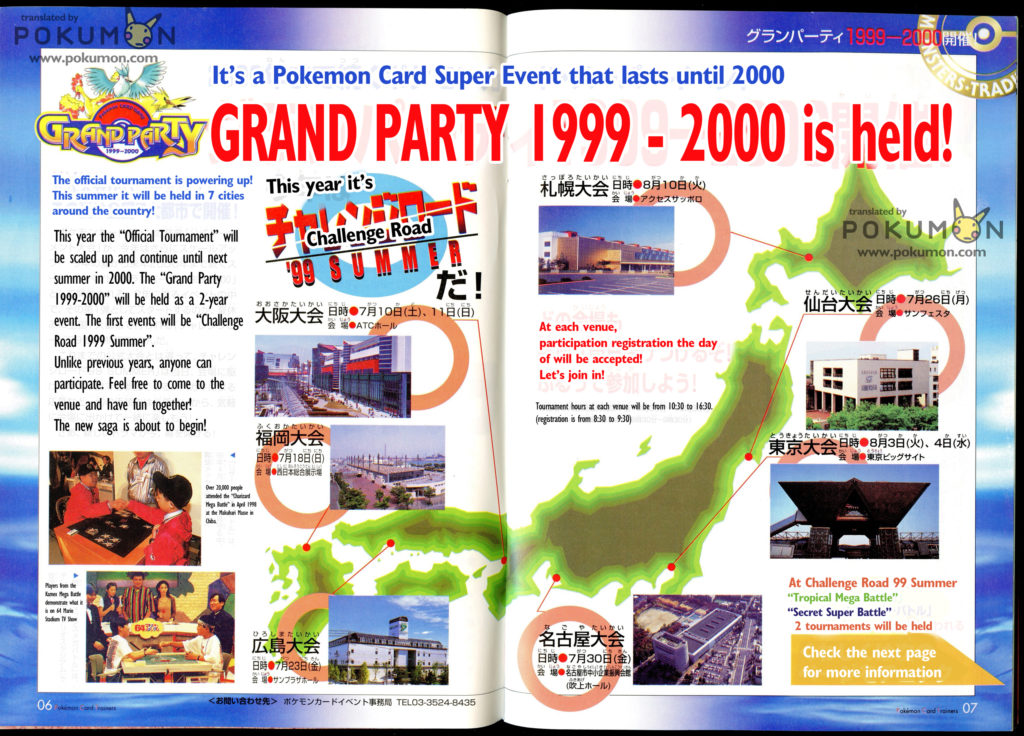 In Japan, the 9 regional tournaments for the "Best in Japan" national tournaments were known as the Challenge Road 1999 Summer. Some conferences were multiple days, and each day was treated as a separate event with its own 1st through 3rd place winners. They all occurred during the summer, when schools were out for kids.
Kansai conference: Asia & Pacific Trade Center (ATC), Osaka on July 10 and 11, 1999.
Kyūshū conference: West Japan General Exhibition Center, Fukuoka on July 18, 1999.
Chūgoku conference: Hiroshima Sun Plaza, Hiroshima on July 23, 1999.
Tōhoku conference: Sunfesta, Sendai on July 26, 1999.
Chūbu conference: Nagoya Trade & Industry Center, Nagoya on July 30, 1999.
Kantō conference: Tokyo International Exhibition Center, Tokyo on August 3 and 4, 1999.
Hokkaidō conference: AXES Sapporo, Sapporo on August 10, 1999.
All regional tournaments had 2 divisions: Juniors (up to elementary School year 6) and Seniors (up to high school year 2). The juniors division was known as the "Tropical Mega Battle", and the seniors vision was known as the "Secret Super Battle."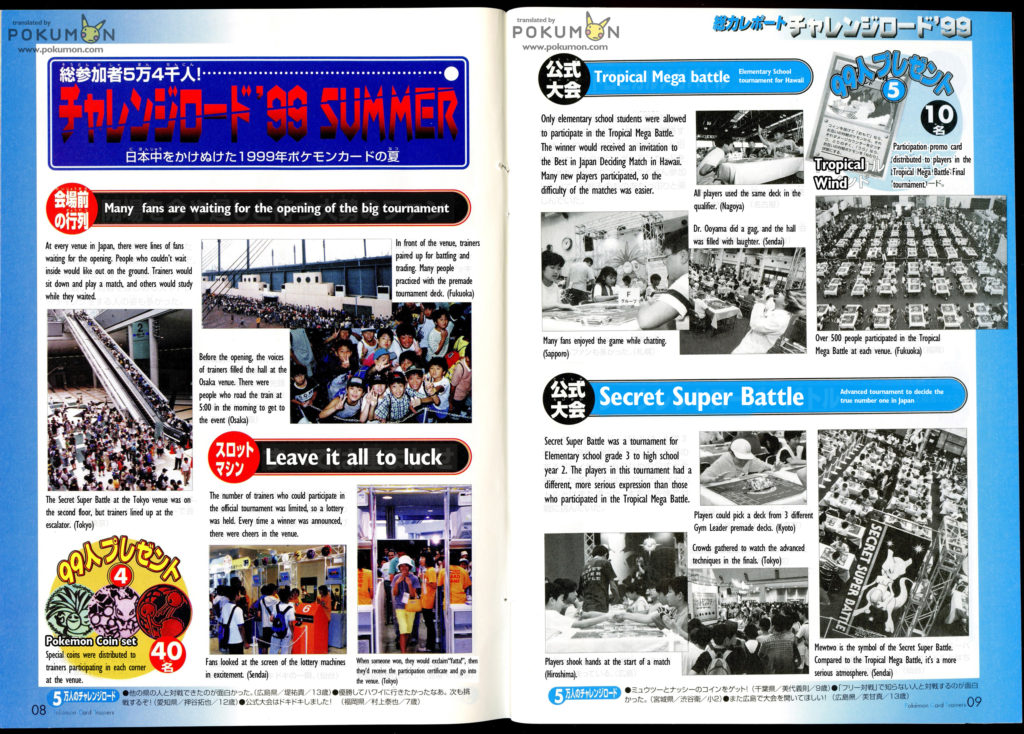 Each division had a "Best in Japan" match for the national championship title. The juniors division match took place in Hawaii, USA at the same venue as the International Tropical Mega Battle (though they were 2 separate events). The seniors match took place Tokyo, Japan at a secret location, hence its name.
Tournament Structure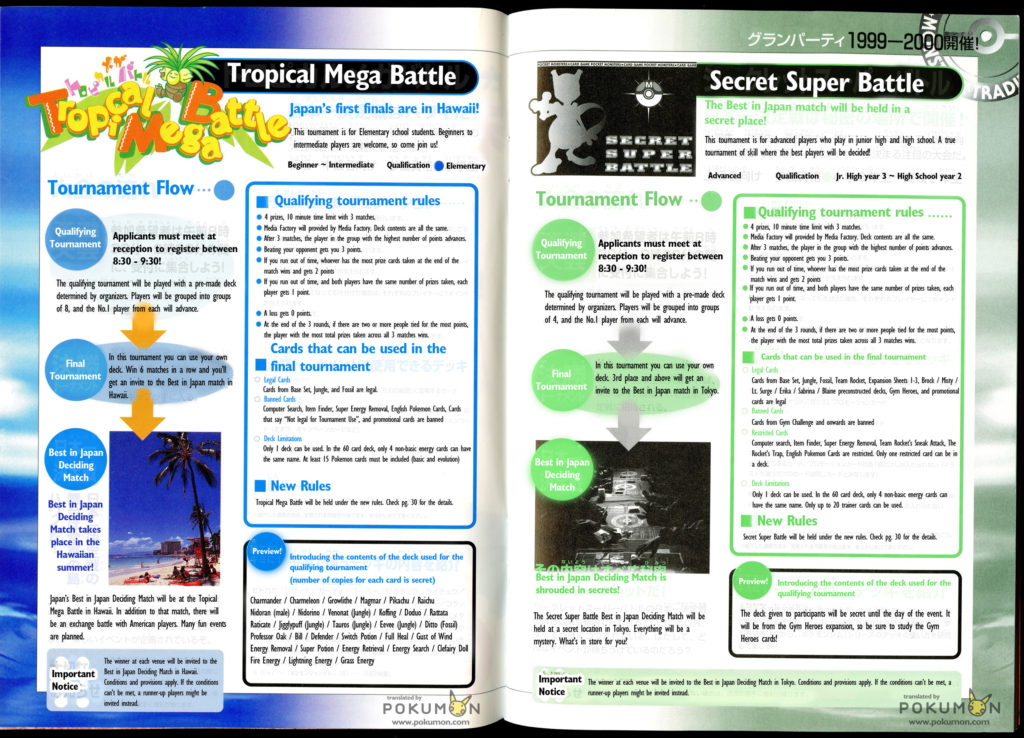 Both the Tropical Mega Battles and Secret Super Battles followed the same structure. There would be a qualifying round followed by a "final tournament" to determine regional winners. After that, regional winners would be invited to the Best in Japan deciding matches in either Hawaii for juniors, or Tokyo or seniors.
Qualifying Tournament
During the qualifying rounds, trainers were split up into smaller groups. The juniors division was split into groups of 8, while the seniors division was split into groups of 4. Only the top player from each group would proceed to the final tournament.
Within each group, players would play 3 matches with a 10 minute time limit and 4 prizes. Each win would award 3 points, while a timeout would award the player with the most prizes taken 2 points. If players were tied, they would receive 1 point, and a loss would award 0 points.
At the end of 3 matches, the player with the most points would proceed to the final tournament. If there was a point tie, total prize cards taken over the course of all 3 matches would be used as a tie-breaker.
Players would not be allowed to play with their own decks. Instead, tournament organizers would provide a fixed deck for players to use. The premade deck would differ between the juniors and seniors division. Juniors division players would all receive the same fixed decklist.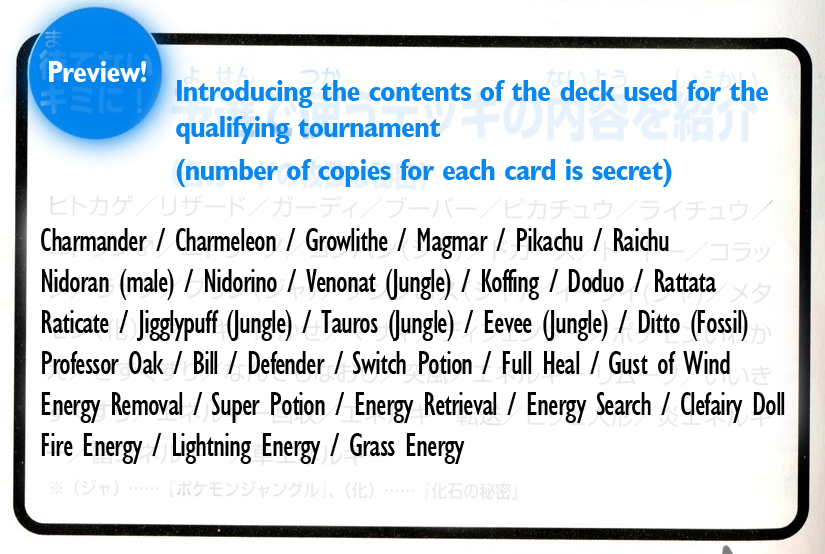 Seniors division players had a choice between 3 of the preconstructed Gym Leader theme decks from the first Gym leader expansion. From examination of the only photo that shows the deck boxes, the decks available were Sabrina's, Lt. Surge's, and Erika's.
Final Tournament
The top scoring player from each group advanced to the final tournament. In this tournament players were allowed to use their own decks, with some restrictions.
The winning criteria for juniors and seniors differed. Juniors had to win 6 matches in a row to gain an invite to the Best in Japan Match in Hawaii. The seniors division players instead had to place at 3rd place or above.
There were multiple deckbuilding restrictions for both divisions. The juniors division had a much smaller card pool to simplify the format. In contrast, the seniors division allowed almost all released cards, and had a restricted list instead of a ban list.
At the end of each regional tournament's Final Tournament, the top 4 players from each region and division earned an invite to the Best in Japan national finals.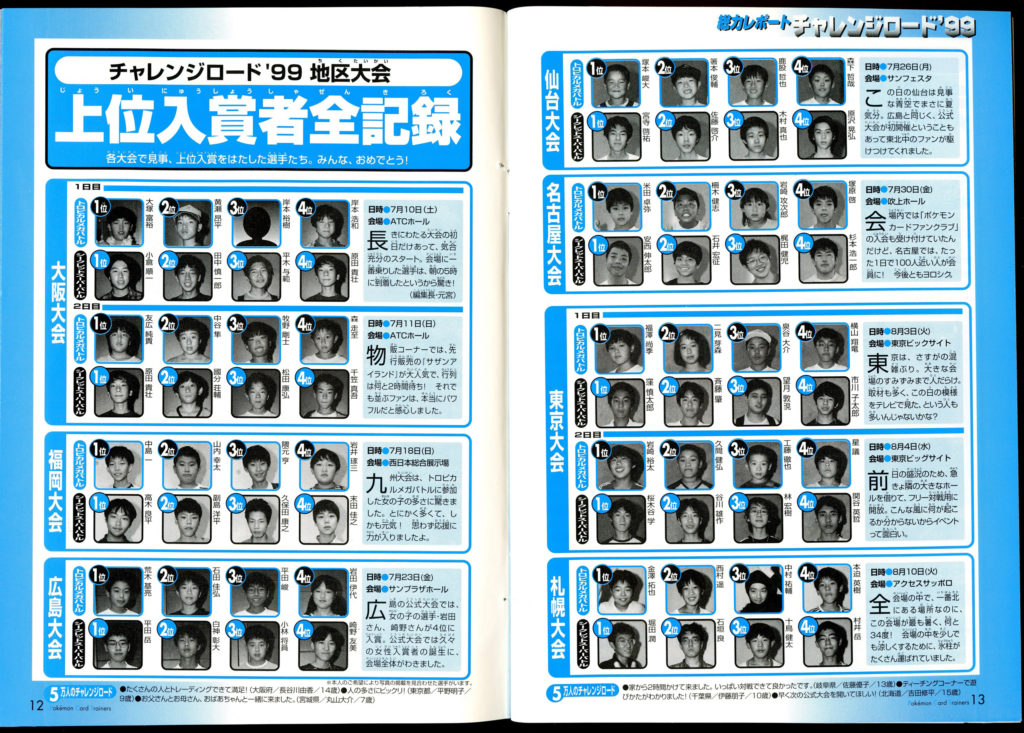 Rewards
The top 3 players for each juniors (TMB) and seniors (SSB) event received No. 1, No. 2, and No. 3 trainer trophy cards. With 9 total events across the 7 venues, this means there are 9 officially distributed copies of each card.
Since only the top winner of the TMB was invited to the Best in Japan event, the text in the No.1 Trainer for the juniors division is a good deal longer, as it describes the winner's entry into the event. For the SSB trainers, No.1-3 were all invited to the Best in Japan event, so they all specify that event.
The Best in Japan events would be held later that summer. The Tropical Mega Battle Best in Japan event would be held in Hawaii, USA at the same location as the International Tropical Mega Battle, while the Secret Super Battle Best in Japan was held in an secret location in Tokyo. The top 4 winners of each age division were invited to the event, but only the top 3 winners received No.1 – 3 trainer prize cards. This is different from subsequent years, as only 1999 would differentiate between 3rd / 4th place. For example, in World Challenge Summer 2000, there would simply be two 3rd place winners tied for the same position who would both receive the 3rd place trophy card.
Additionally, trainers in the TMB final tournament each received a copy of the Tropical Wind promo card.
99 Person Present Lottery
After the events of Challenge Road 1999, Trainers Magazine Vol. 3 published a special event report. Within that event report was a lottery for readers to enter for chances to win official merchandise from the event. This also included copies of the Tropical Wind promo card.
99 winners who mailed in a postcard would be selected as winners. The instructions for entry were at the bottom of pages 14 – 15 of the same magazine, tucked underneath an interview between staff members about the Challenge Road 1999 events.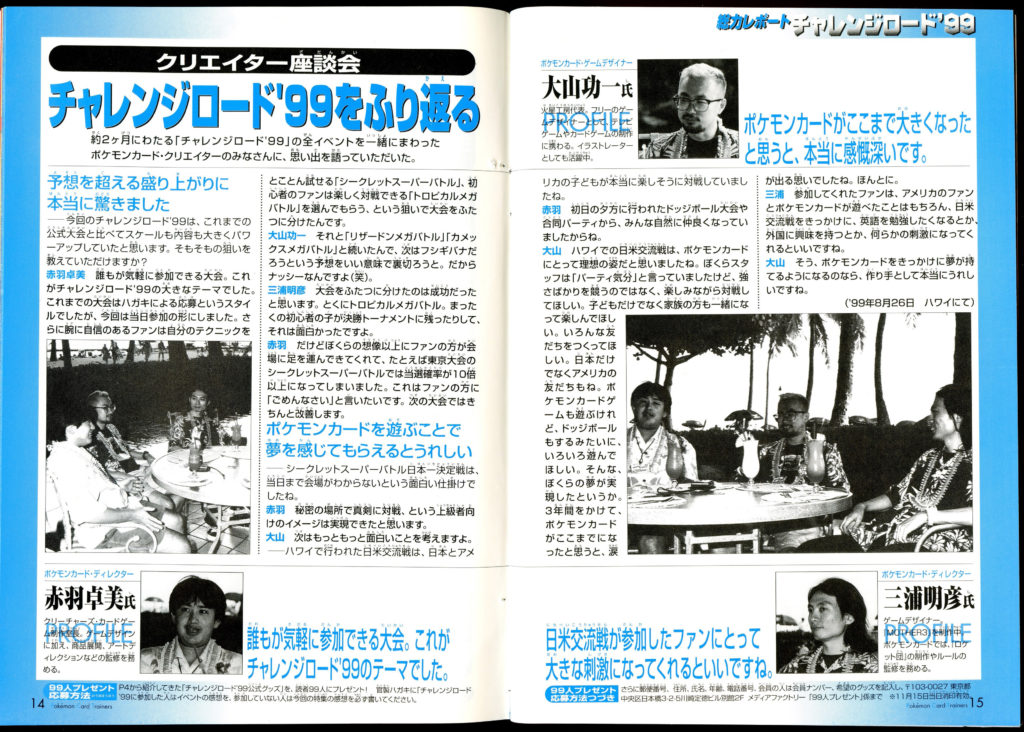 Entrants had to either write their impressions of the event if they had attended, or their thoughts about the magazine's special feature. They would then mail this postcard to Media Factory, along with prize preference.
The prizes available along with how many people would be able to win each were detailed within the special report.
In total, 7 different prizes were available for winners, totaling up to 99 winners:
Hawaiian shirts with 2 different designs (4 total winners, 2 of each)
Staff T-Shirts with 3 different designs (15 total winners, 5 of each)
Bandanas with 2 different designs (10 total winners, 5 of each)
A set of 3 coins (40 total winners)
Tropical Wind 1999 promo card (10 total winners)
A set of 8 gym badges (10 total winners)
A set of 7 energy badges (10 total winners)
The 10 Tropical Winds that were distributed as part of this promotion were sent to lottery winners via mail in a cardboard holder, similar to the ones used as part of the Evolution Communication "Masaki" Campaign. This means that they unfortunately arrived with indents on their corners.
Tropical Wind 1999 Total Distribution
With the tournament report as well as the lottery details, it is possible to calculate how many Tropical Winds were officially distributed.
Side Events (Corners) & Rewards
Challenge Road Summer events featured multiple side events for attendees to participate in outside of the main official tournament. Many of these offered prizes for participating.
Doduo Tag Match Corner
At this corner, players could pair up and play a tag team tournament using the "Garura Rule", also known as the "Kangaskhan Rule". This was not limited to just children, so parents could participate with their kids as well.
Gym Leader Challenge
A corner where players could play against staff members dressed as the 8 Kanto region gym leaders. Each gym leader used a themed deck for their gym, and players received a badge for defeating them. Playing in this event also rewarded players with 2 points that they could redeem for prizes.
Free Battle Corner
Teaching Corner
Nintendo Game Corner
At this corner players could play the new Pokemon TCG Game Boy game, as well as the Gen 2 games Pokemon Gold and Pokemon Silver.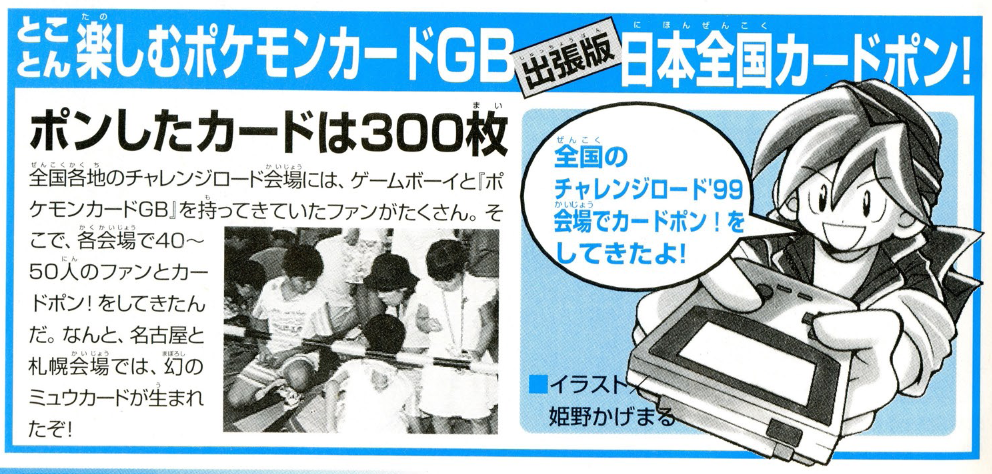 Hawaii Lottery
While most attendees of the International Tropical Mega Battle in Hawaii had to win their way in via a tournament, one lucky winner was selected from attendees via lottery to also attend.
Elementary school players could collect 5 points via the side event corner activities to be entered into the lottery. The winner was drawn at the Fukuoka venue.
Battle Road 1999 Autumn
Immediately after the summer tournament circuit, an Autumn circuit was held. This circuit of regional tournaments was greatly expanded from the summer version, nearly doubling the number of regional tournaments across the country. The tournaments were held from September 12, 1999 to November 28, 1999.
It's unknown why the Pokemon TCG decided to expand so aggressively during this time, since subsequent years would narrow the number of regional tournaments back down to the amount held during Challenge Road 1999 Summer. A hypothesis for this rapid expansion is that this was around the time that Konami began aggressively marketing the Yu-Gi-Oh! TCG in Japan, which was quickly eating away at Pokemon's market share.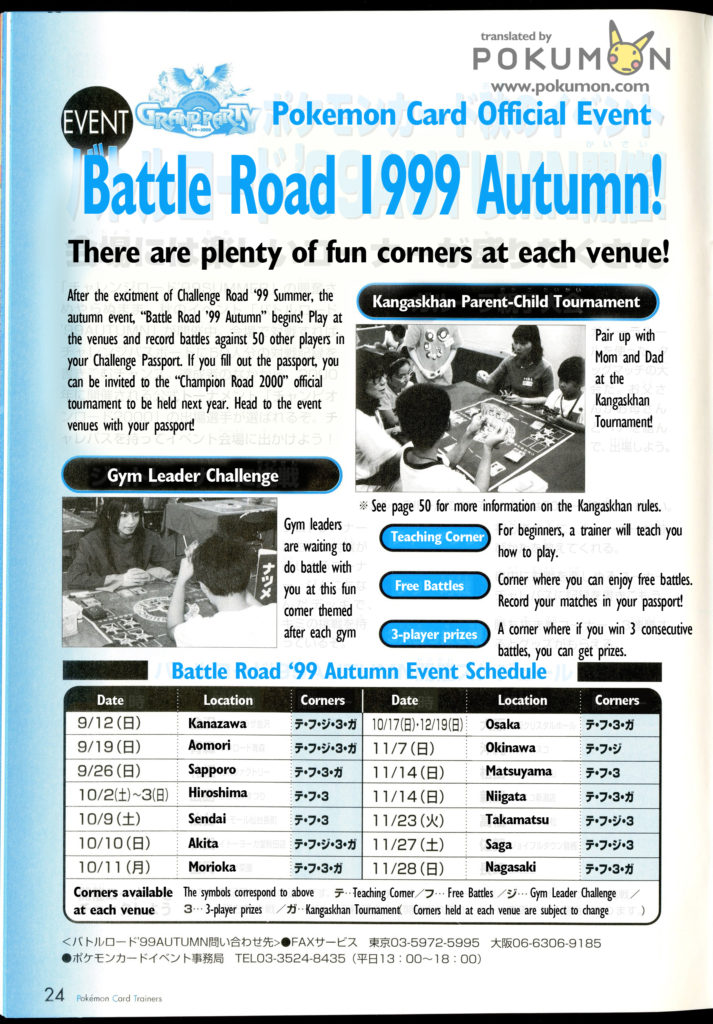 Very little is known about these tournaments, as there were no official tournament reports published. Trainer's Magazine Vol.3 has a single page that announces the tournaments, which is where most of the documented information comes from.
However, it is unlikely that the Battle Road 1999 Autumn tournaments had any major national tournaments linked to them, as the Champion Road 2000 tournament circuit was referred to as the 4th Official Tournament. With the 1997 1st Tournament being the first, the 1998 Charizard Mega Battle being the second, and 1998 Kamex Mega Battle being the third, there was no room for any possible autumn national tournament.
Instead, the autumn tournaments likely served as a vehicle for players around the country to earn invites to the Champion Road 2000 tournaments by filling out their Challenge Passports. Since you needed to play 50 players to fill out the passport and gain entry, the large number of regional tournaments from the Battle Road Autumn was the perfect opportunity.
New Side Events
Battle Road 1999 Autumn would feature many of the same side event corners as the Challenge Road 1999 summer tournaments, including some new ones that weren't previously available.
3-player prize match
This side event would reward players with prizes if they beat 3 other players in a row.
Kangaskhan Parent-Child Tournament
This side event used the same Kangaskhan Rule (Garura Rule) that the previous Parent-Child tournament in 1998 had. However, it is unlikely that the Kangaskhan promo was distributed at these.
Other Memorabilia
The summer and autumn events also had other rewards and memorabilia given away at them.

Legacy
The tournament structure introduced with the 1999 tournaments would be repeated for many years after, with regional tournaments that led into national "Best in Japan" ones, and international TMB tournaments in Hawaii.
The practice of providing trainers with pre-made decks for their qualifying tournaments continued for future regional tournaments as well, along with the strict time limits. In particular, Japanese players were conditioned to play swiftly during tournaments, which could be seen for years to come at international World Championships events, especially when compared to other countries' players.
Sources
Trainer's Magazine Vol.1, pg. 6-11
Trainer's Magazine Vol.3, pg. 8-13, 24
"Silver Bible" Pokemon Card Official Guide 2000, pg. 209, 342, 343