Similar to the Challenge Road 1999 regional tournaments, the World Challenge 2000 events were a series of regional tournaments across Japan. There was both a spring and summer circuit, with the summer tournaments culminating in national championships for both juniors and seniors, as well as an international event, the International Tropical Mega Battle 2000.
World Challenge Spring
The spring tournament circuit was the largest tournament circuit in the history of the TCG, and still remains one of the largest to date. It occurred in 8 prefectures across Japan, with each prefecture having multiple tournament locations. In total, over 30 regional tournaments were held starting from March 25, 2000, and ending June 10, 2000 just a few weeks before the summer tournaments began.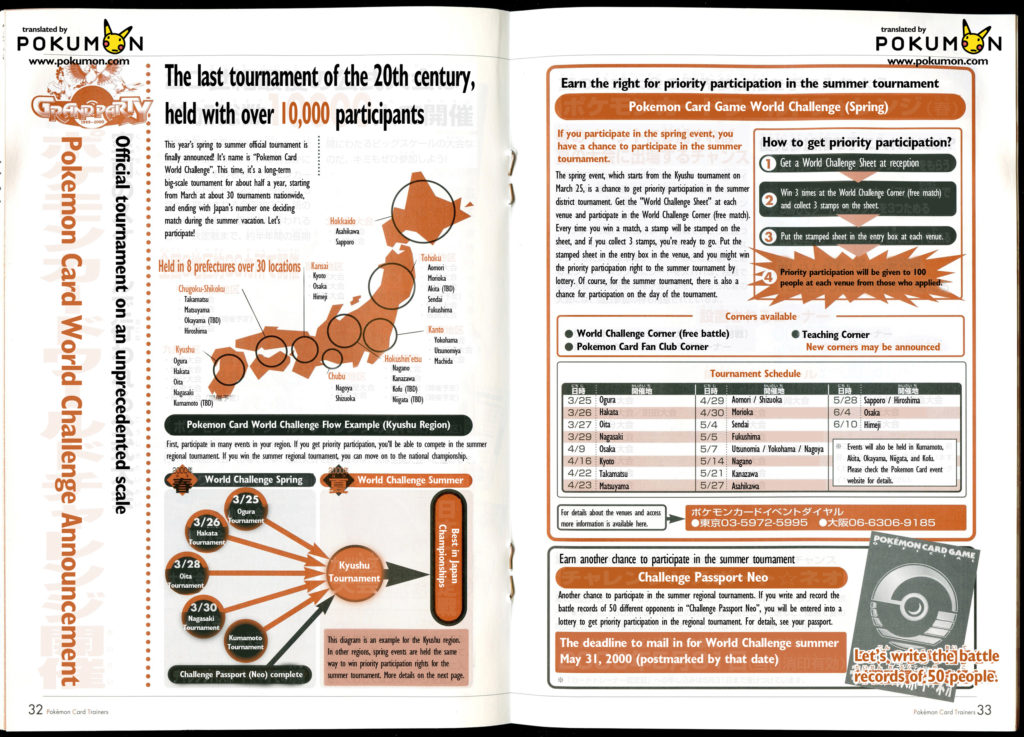 Each prefecture had multiple events held during the spring circuit:
Chugoku / Shikoku
Takamatsu (April 22)
Matsuyama (April 23)
Okayama (Undetermined)
Hiroshima (May 28)
Kyushu
Ogura (March 25)
Hakata (March 26)
Oita (March 27)
Nagasaki (March 29)
Kumamoto (Undetermined)
Kansai
Kyoto (April 16)
Osaka (June 4)
Himeji (June 10)
Chubu
Shizuoka (April 29)
Nagoya (May 7)
Hokkaido
Asahikawa (May 27)
Sapporo (May 28)
Kanto
Machida (March 26)
Yokohama (May 7)
Utsunomiya (May 7)
Tohoku
Aomori (April 29)
Morioka (April 30)
Akita (Undetermined)
Sendai (May 4)
Fukushima (May 5)
Hokushin'etsu
Nagano (May 14)
Kanazawa (May 21)
Kofu (Undetermined)
Niigata (Undetermined)
The main purpose of the World Challenge Spring tournaments was for players to obtain priority registration for the regional summer tournaments, which would lead into the national championships Best in Japan match.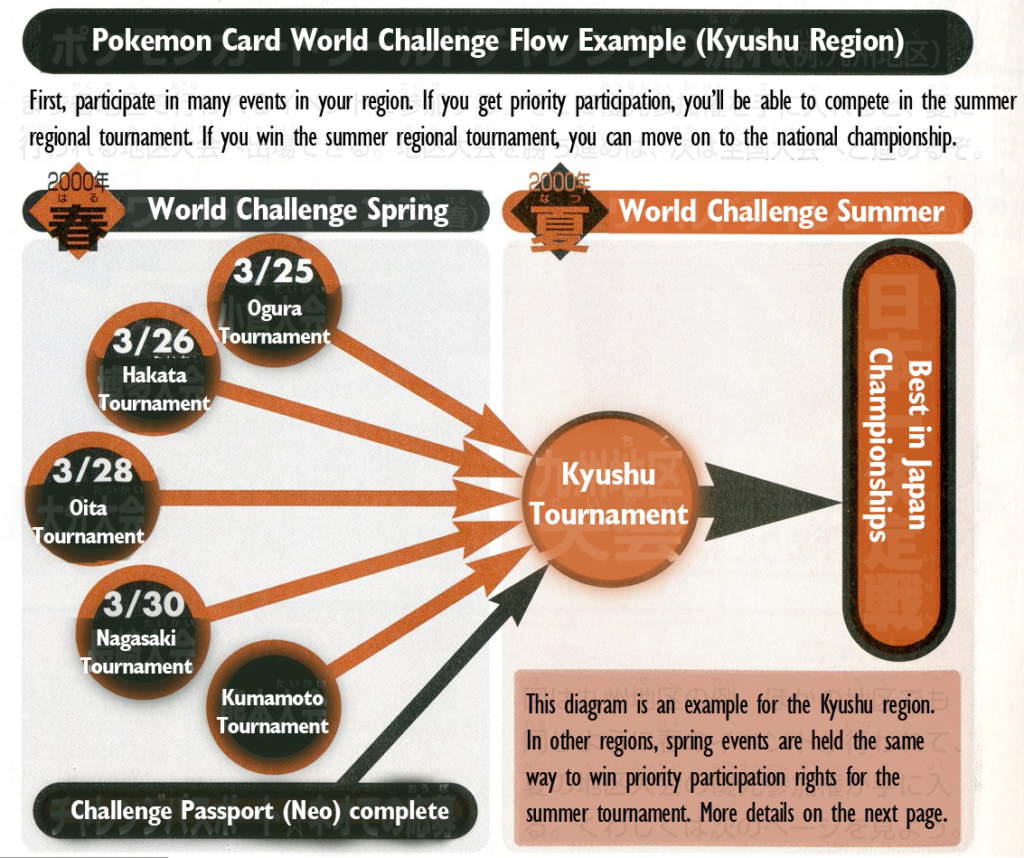 At each venue during the World Challenge Spring, there were 3 steps to obtain priority participation for the World Challenge Summer tournaments.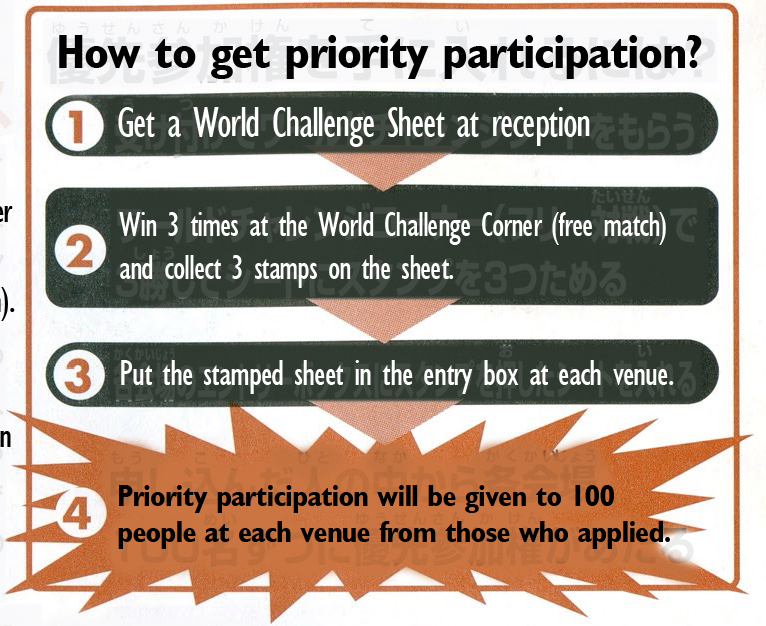 Get a World Challenge sheet at the reception. This sheet could be stamped once for each match victory at the main free battle event.
Win 3 times and collect 3 stamps in the free battle event. This was a free-form event during which players could challenge each other.
Put the sheet with 3 stamps into a lottery box at each venue.
100 people from each venue would be selected for priority participation in the World Challenge Summer regional tournaments.
Additionally, players could fill out the updated Challenge Passport Neo to be entered into a lottery for priority participation. They did this by recording the details of 50 matches with different players at any official event. Players had to mail in this Challenge Passport by May 31, 2000 to be eligible for the lottery.
World Challenge Summer
Immediately after the World Challenge Spring, the World Challenge Summer events began on July 1, 2000. These regional Japanese qualifiers led up to the Japanese national championships. The Juniors championship was known as Tropical Mega Battle (or as the "World Challenge Tropical Mega Battle Best in Japan") and its counterpart for senior players, the Secret Super Battle Best in Japan.
Similar to the year before, Japan's qualifiers were conducted through a series of regional tournaments held between July and August 2000 at 8 different venues. These were rebranded as the World Challenge Summer tournaments (previously the 1999 Challenge Road).
Kantō region: Pacifico Yokohama, Yokohama between July 1-2, 2000.
Kansai region: Asia & Pacific Trade Center (ATC), Osaka between July 8-9, 2000.
Hokkaidō region: Tsukisamu Green Dome, Sapporo on July 16, 2000.
Chūbu region: Nagoya Trade & Industry Center, Nagoya on July 22, 2000.
Hokushin'etsu region: Niigata City Industrial Promotion Center, Niigata on July 26, 2000.
Kyūshū region: West Japan General Exhibition Center, Fukuoka on July 30, 2000.
Chūgoku/Shikoku region: Hiroshima Sun Plaza, Hiroshima on August 2, 2000.
Tōhoku region: Sendai Wasse, Sendai on August 6, 2000.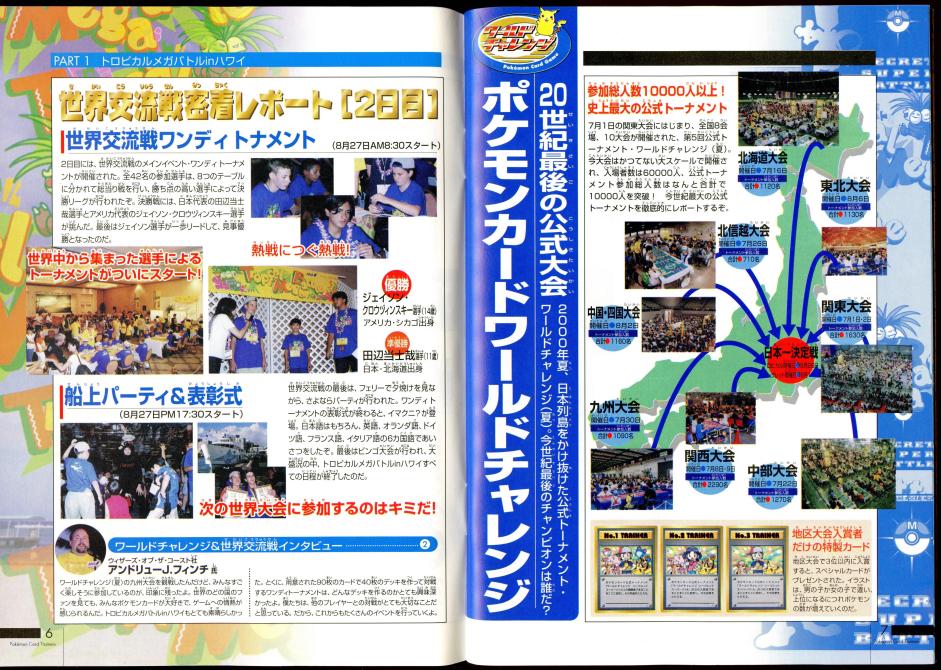 Competitors from the Japanese Tropical Mega Battle were also later invited to the International Tropical Mega Battle in Hawaii, USA.
Lucky Stadium participation promos
A promotional Lucky Stadium promo card was distributed at each venue during the spring and summer tournaments. The artwork for each promo card differed based on the venue it was distributed at, and was exclusive to that specific regional tournament. Each different print features a landmark from the region, as well as different Pokemon.
Kyūshū
Landmark: Mount Aso, Japan's largest active volcano
Pokemon: Onix
Kantō
Landmark: Tokyo Radio tower and skyline
Pokemon: Lugia
Chūbu
Landmark: Cental Tower of Osaka
Pokemon: Zapdos
Tōhoku
Landmark: Godaido Shrine among the Matsushima islands
Pokemon: Diglett
Kansai
Landmark: Japan's tallest pagoda in Tō-ji, Kyoto
Pokemon: Ho-oh
Hokkaidō
Landmark: Sapporo Clock Tower during the Sapporo Snow Festival
Pokemon: Pikachu
Chūgoku
Landmark: 'Floating' torii at Itsukushima Shrine, Hatsukaichi.
Pokemon: Gyarados
Hokushin'etsu
Landmark: Mountains from the Japanese Alps
Pokemon: Mew
Regional Trophy Cards
The top 3 winners of each summer regional tournament received customized No.1, 2, and 3 trainer cards with the region and their names. Based on the gender of the winner, the player received either a Boy or Girl variant of the trophy card. The artworks of each trophy card featured progressively more Pokemon in their artworks.
The text of the trainer card described the event it was won at–either Tropical Mega Battle for players aged 14 or under, or Secret Super Battle for players 15+.
Tropical Mega Battle version
Secret Super Battle version
The trophy cards were supposed to all be stamped with the winner names as well as the tournament's region, but several copies without either customization have been circulated and sold. These are likely "leftover" prints from the printing sheet that were taken home by employees and later sold.
Each trophy card was presented in a acrylic plastic trophy case. This case is easily disassembled to access the card inside.
Number of trophy cards distributed
The total number of No. 1 -3 trainers that were "properly" distributed (i.e. ones with actual names + locations printed onto them) can be determined by this scan from the Trainers magazine. It details the winners at each location. Their genders can be determined from the Japanese honorifics after each players' name, with 'くん' (kun) for boy winners, and 'さん' (san) for girl winners.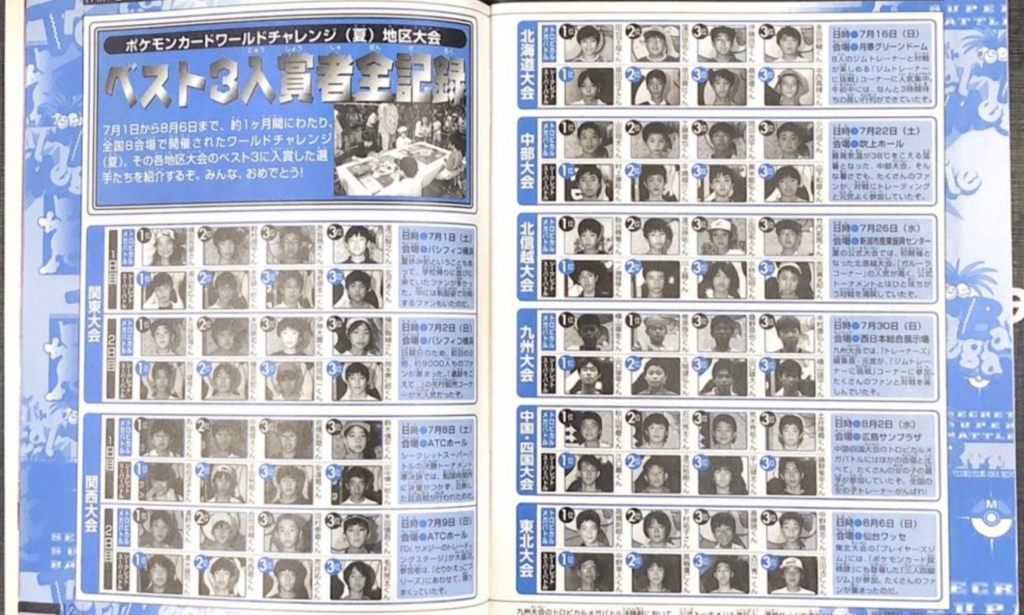 Tropical Mega Battle World Challenge Summer (Under 14 juniors group):
No. 1 Trainer : 1 girl 9 boys
No. 2 Trainer : 1 girl 9 boys
No. 3 Trainer : 1 girl 19 boys
Secret Super Battle World Challenge Summer (14+ seniors group):
No. 1 Trainer : 2 girls 8 boys
No. 2 Trainer : 0 girls 10 boys
No. 3 Trainer : 0 girls 20 boys
Due to the distribution above, the girl trainer cards are the much more rare variants. Very few copies with actual winner names printed onto them have ever been seen.
Tournament Structure
Each World Challenge regional tournament had a qualifying league before the main tournament. This qualifying league was played with a provided pre-constructed deck. All players had to play with the same deck, which was meant to level the playing field and minimize time needed to check each decklist for legality.
After the qualifying league came the "final tournament". During this tournament to determine the winners, players were able to use their own decks after they were inspected by staff members.
Side Activities
Each regional venue also had side activities. These included:
Player Gym: These involved groups of children coming together to design a gym, usually with special rules or gimmicks. Other participants could challenge the gym members to win prizes, and gym members would also receive prizes for organizing a gym.
Challenge Corner: Some venues had staff members dressed as gym leaders using themed decks that could be challenged for prizes.
Store Corner: These sold goods from the official Pokemon Center, as well as some pre-selling some cards or special sets before the official release.
Fan Club Corner: Players could join the Pokemon Fan Club here, or visit the booth and obtain GET points just for attending.
Imakuni? : Imakuni? is a notable Pokemon personality, who sings and partakes in many Pokemon events in costume. He has also illustrated several cards for the TCG. He would appear at many venues during World Challenge Summer and interact with participants in a variety of activities or live shows.
Tournament Reports
The following are summarized highlights from each of the regional tournaments
Kanto region
There were more female players than usual in this tournament. A girl ended up winning the Tropical Mega Battle (juniors division).
This tournament featured a Gym Challenge Corner. There were 8 staff members, each portraying a gym leader like Mistry or Brock. The waiting time to play them was over 3 hours long.
The stage at the venue had two live performances. One by Imakuni?, singing his "Can you name all the Pokemon? Neo" song. The second was by Rikako Aikawa, who sang the ending theme for the Pokemon anime, "Pokemon Harahara Relay".
Kansai region
On the first day of this tournament, a female player won the Secret Super Battle (seniors division). The finals for this match went into overtime sudden death mode, where the first player to take a prize card won.
This tournament occurred the release day of the second Neo set, "Crossing the Ruins…" (Neo Discovery in the West), so many fans purchased and traded cards from the new set with each other or from the store.
Hokkaido region
The finals of the senior division ended with a sibling match, which had never been done before in an official tournament.
This tournament has a Challenge corner featuring Imakuni? and Dr. Sameji. Dr. Sameji was the host of a Pokemon radio program from 1997-2001 called "Inuyama Inuko's Pokèmon Hour". Fans could play against the two Pokemon personalities for the entirety of the event.
Chubu region
Many players who made it to the final tournament (where you could use your own down) were running unconventional deck lists, rather than the standard metagame decks run at other venues.
Over 300 players gathered in the Trading Corner to trade.
The Sales Corner at this event sold the "Pokemon Card ★ Neo Premium File 2" ahead of the official release. This product was available on July 8, 2000 to viewers of the 3rd Pokemon Movie, but would not be officially released until August 5, 2000. Since the Chubu tournament took place on July 22, this was another place to get the cards earlier.
Hokushin'etsu region
This was the first time a regional tournament for the Pokemon TCG was held in this region
In the afternoon, the tournament stage where the juniors tournament was held was converted to a Kangakshan Rule Corner. Here, children and their parents could play in this special 2v2 format.
At this venue there was a Jumbo Carddass vending machine selling Vending machine series sheets 1-3. These had originally gone on sale in 1998, so it was a rare opportunity for fans to get them.
Kyūshū region
An American reported attended this tournament, and watched over the finals for both seniors and juniors divisions.
Former staff members of the Pokemon Trainer's Magazine hosted a Challenge Corner at this venue. Editor-in-Chief Motomiya used an all-Colorless Lugia deck that was featured in Trainer's Magazine Vol.6
Staff from the Pokemon Card Laboratory (PCL) opened a Player's gym at this venue, dressed up in white lab coats.
Chūgoku/Shikoku region
The local TV station came to this event, filming and interviewing the final participants and matches.
The Pokemon Card ★ Neo Premium File 2 had released recently, but was not legal for tournament play. Participants were allowed to use cards from it in a Free Battle Corner at this venue.
Tōhoku region
This venue was particularly crowded due to it being the last regional tournament of the World Challenge Summer. Many players travelled long distances to attend.
The Players Gym here was held in 30-minute shifts due to the amount of gyms that participants wanted to host a gym. An official gym hosted a format called "Three-person four-legged Gym", which was introduced in Trainer's Magazine Vol.5
World Challenge Tropical Mega Battle Best in Japan Deciding Match
Top-placing competitors in the juniors group (under 14 years of age) competed in the World Challenge Tropical Mega Battle Best in Japan Deciding Match tournament, held at the Pokémon Center Tokyo in Tokyo, Japan on August 26, 2000. Immediately after this tournament, the juniors competitors would also fly to Hawaii, USA to compete in the World Exchange Tournament the very next day on August 27, 2000.
No. 1 – 3 trainer trophy cards were distributed to the winners of this event. Each one is a cosmos holofoil card and features the winner's photograph and name printed onto them. There is only one copy of each card in existence.
World Challenge Secret Super Battle Best in Japan Deciding Match
Top-placing competitors in the senior division (ages 14+ until 11th grade in high school) were invited to compete in the World Challenge Secret Super Battler Best in Japan Deciding Match, held at the Pokémon Center Tokyo in Tokyo, Japan on August 19, 2000.
Similar to the juniors division event, winners of this event received No.1-3 trainer trophy cards. Each one is reported to be a cosmos holofoil and features the winner's photograph printed onto them like the Tropical Mega Battle versions, but since no photos of them have ever surfaced, this cannot be confirmed. There is only one copy of each card in existence.
Sources
Trainers Magazine Vol 5, pg. 32 -33