Meiji Chocolates are a major brand of confectionary goods manufactured by Meiji Co. Ltd, a subsidiary of Meiji Holdings Co. Ltd. Meiji was founded in December, 1917, and is one of Japan's largest candy manufacturers, as well as having a significant international presence.
Since 1997, Meiji has partnered with Pokemon to market their candy to children and Pokemon fans. This makes Meiji one of Pokemon's earliest brand collaborators, as the franchise itself launched in 1996.
Meiji's early collaborations were simply packaging collectible Pokemon cards with their chocolate. However, from 2004 to 2008, Meiji and the Pokemon TCG released many promotional cards through their partnership. All Meiji promo cards can be distinguished by the red Meiji logo in their bottom left corner.
1997
1998
1999
2000
In 2000, Meiji issued yet another set of collectible cards with their chocolates. This time, they brought back the "rock paper scissors" mechanic from earlier years. In addition, this year's collection was larger, with blue, silver, and gold patterned holofoil variants of the cards.
The reverse sides of these cards also featured some game data on what levels Pokemon learned certain attacks.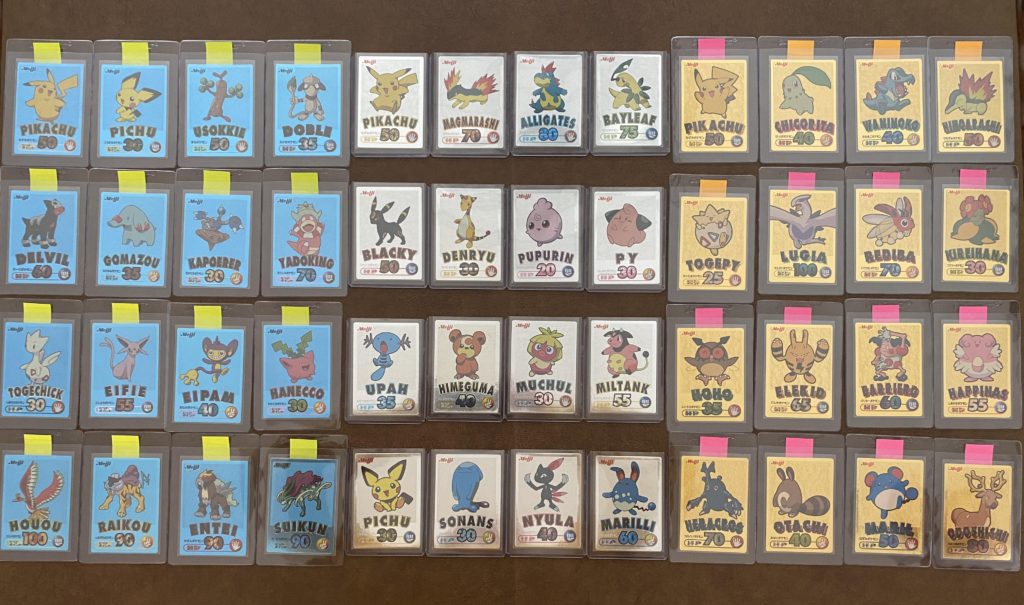 2001
2002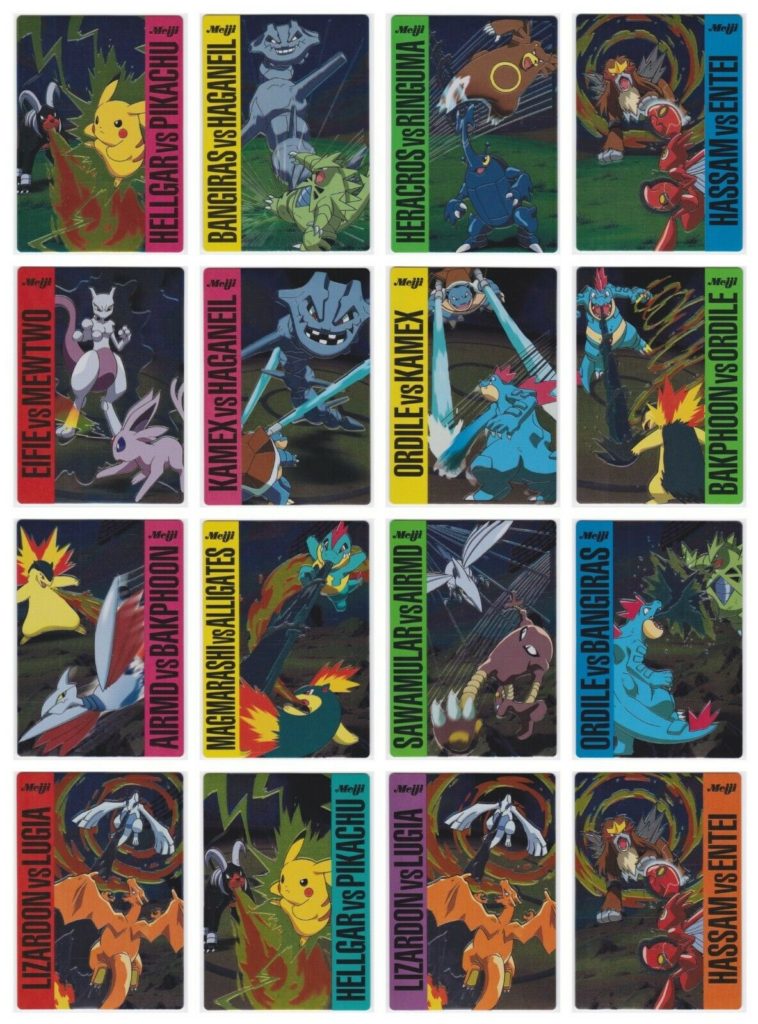 2004
After skipping a collaboration in 2003, 2004 was the first year that Meiji and the Pokemon TCG partnered to create exclusive promotional cards.
These were available in Meiji chocolate boxes, 1 per box, in a transparent plastic cellophane sleeve. The sleeve had a strip of opaque silver paint, and this would repeated in subsequent years' Meiji Pokemon TCG promos.
2004 had 2 series of Meiji promos. The first series was released in February 2004 and had 12 cards, all featuring Ken Sugimori stock art. The first series was part of the ADV-P promo set. The next series was released later in the summer (June 2004), and also had 12 cards, but from a variety of artists. This series was part of the PCG-P promo set.
February series
June series
2005
2005's campaign was similar to 2004's in that it had 2 series, except it had its first series in the summer (June 2005), and the second in the fall (October 2005).
June Series
October Series
2006
Unlike 2004 and 2005, 2006 only had one series of Meiji Chocolate promos. These would also be the last PCG-P Meiji promos.
2007
2007 marked the start of the DP-P Meiji promos. These were again run in 2 series, one in February 2007, and another in July 2007.
February series
July series
2008
2008 was the last year of Meiji Chocolate promos. It had a single series, released in March 2008
Sources