The Super Trainer Showdowns were actually international events despite being held in America. Wizards aimed to support the non-Japanese international releases by inviting a few players from other countries where the TCG was being distributed in.
Qualification
Gold Invitation
Players who played in the Super Trainer Showdown Qualifiers at the Pokemon Tours held across America in 2000 had an opportunity to win a "Gold Invitation", which guaranteed their entry into the tournament.
By winning at least 3 games in a row at the qualifiers, players would be given the Gold Invitation, and then at a later date would be mailed a letter and player information packet. Those who were the top winner at each tour location also won a trip for 2 to the STS location.
Tournament Structure
Swiss-draw Tournament
After 6 – 8 rounds (varied depending on attendance in each age division), the top 8 players in each age division based on total points would advance to the finals. If there was a tie for point totals, a "resist" score would be calculated by summing up all the points earned by a given player's opponents. Players with a higher "resist" score would be placed above those with lower ones, since they had faced "stronger" opponents.
The top 8 players would then play in a single-elimination tournament to determine the top 8 placement order.
Allowed Cards
Since the TCG was so new in America, there was no real ban list. All cards produced by Wizards of the Coast were allowed, with the except of a few promotional cards. The following card sets were legal to use:
Base Set
Base Set 2
Jungle
Fossil
Team Rocket
Gym Heroes
Gym Challenge (only added for the East Coast tournament)
All Wizards Black Star promos that had currently be released
The Ancient Mew promo card from Pokemon the Movie 2000 theatrical release, as well as the multilingual cards from the Pikachu World Collection were not allowed.
Prizes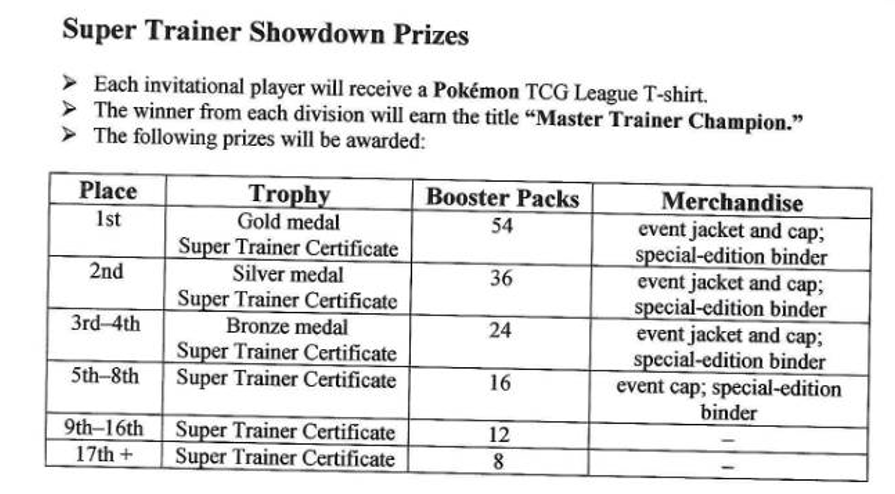 Winners from each age group received a variety of exclusive prizes. Even those who did not place highly won booster packs as prizes, which were a mix of Base Set, Base Set 2, Jungle, Fossil, Team Rocket, and Gym Heroes boosters. Wizards of the Coast staff also gave out a variety of promotional and special release cards at the venue. Multiple people reported getting promo cards like Cool Porygon or Prerelease Clefable.
All participants received an event T-Shirt featuring a special graphic on the front, and event dates on the back.
The top 4 winners at the event came in bronze, silver, and gold. They all featured the same Machamp design on them.
The top 4 winners also each received a special denim jacket with Super Trainer Showdown emblazoned across the back. The Pokemon League logo and winner's name were stitched into the front.
The top 8 winners received a special baseball cap and a card binder.
Finally, all participants received a Super Trainer Certificate.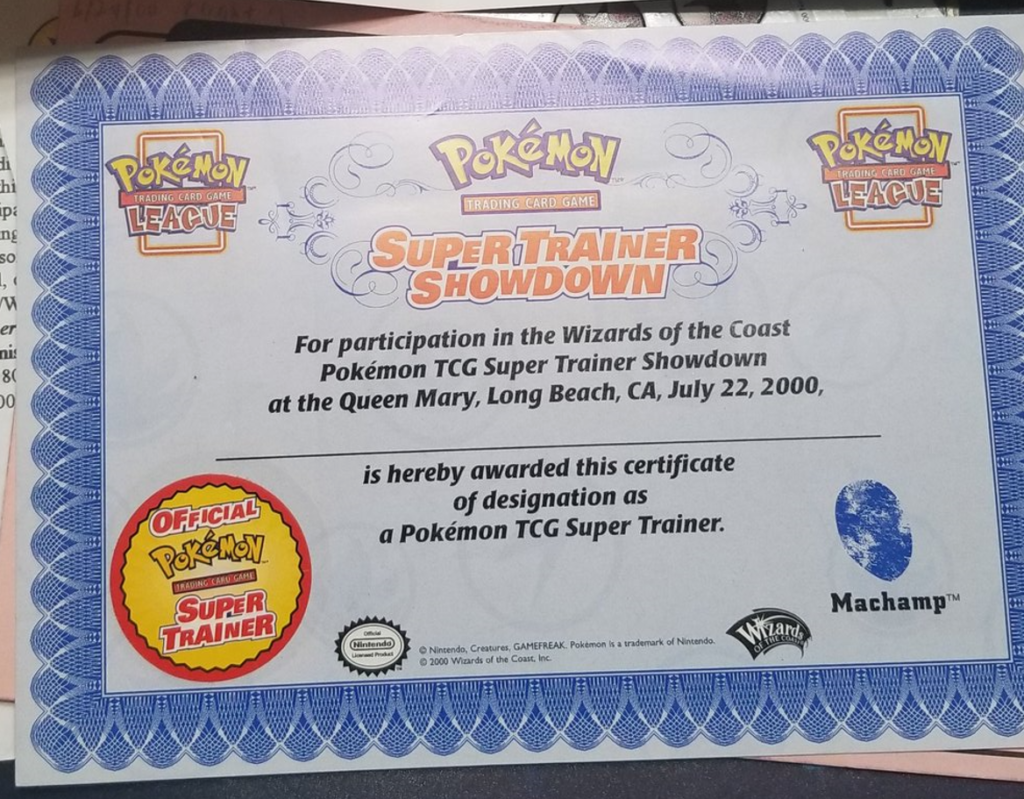 West Coast Super Trainer Showdown 2000
The West Coast Super Trainer Showdown 2000 was held in Long Beach, California on a historic cruise-ship-turned-hotel, the Queen Mary on July 22, 2000. The free-to-attend event drew over 7,000 fans from around the world.
Multiple reports criticized Wizards of the Coast's organization of the West Coast STS. Since there was no pre-registration, many families had travelled a long distance to attend with their children, only to be greeted with massive lines. After waiting for several hours, many were turned away since the venue reached capacity, with a consolation prize of a Team Rocket booster pack and a free ticket to explore the Queen Mary's haunted boat tour.
For those who did manage to get into the event the main tournament was conducted smoothly. Much of the metagame was aggressive beatdown, Blastoise Rain Dance, or Wigglytuff decks.
West Coast STS 2000 Top 8
Click on each player's name to view their decklist.
West Coast STS 2000 Final Standings
East Coast Super Trainer Showdown 2000
While there was the addition of the new Gym Challenge expansion, the metagame still remained largely the same in terms of deck archetypes. Beatdown decks added in Team Rocket's Zapdos as another aggressive powerful Basic Pokemon, but the field was still largely the same Wigglytuff, Beatdown, and Blastoise Rain Dance decks.
East Coast STS 2000 Top 8
Click on each player's name to view their decklist.
East Coast STS 2000 Final Standings
Side Events and Activities
The Super Trainer Showdowns both had side events for attendees who couldn't play in the main tournament.
Similar to the Pokemon Tours held before them, attendees would first check in at "Pokemon Central", where they would receive their "League for a Day" booklets. This booklet was where players would collect stamps for doing side activities, which could then be redeemed for prizes like booster packs.
Each of the side activities also offered an opportunity to win a "Professor Oak's Commendation" certificate.
League Zone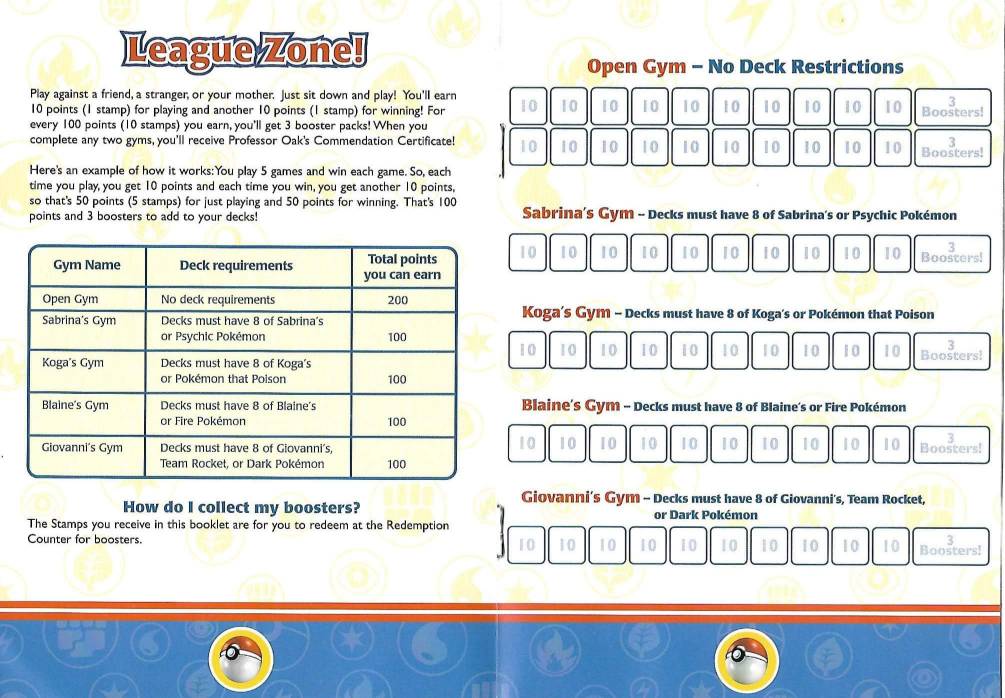 Lt Surge's Challenge: Battle for the Hill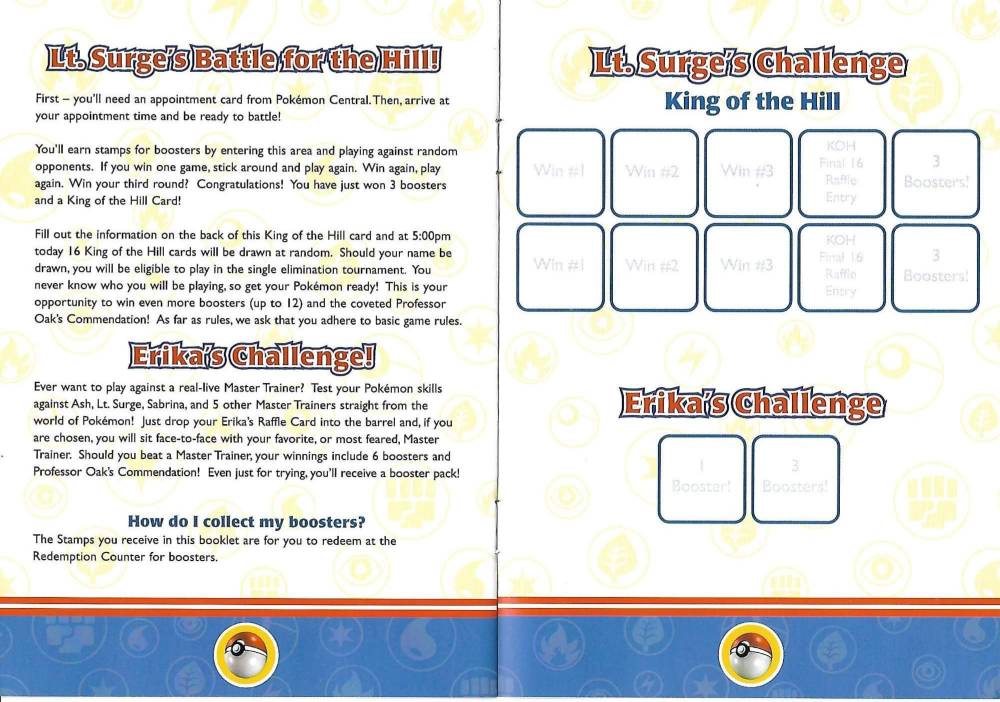 Players had to get an appointment card for this side event. It was a King of the Hill style event where two players would be paired up. The winner of the match would remain, while the loser would be replaced by another challenger.
After winning 3 times in a row, the player would win 3 booster packs and a raffle entry. At 5:00 PM local time, 16 random raffle entries would be drawn, and those 16 players would play in a single elimination tournament. This "finals" tournament would award winners with up to 12 additional booster packs, as well as a Professor Oak's Commendation certificate.
Erika's Challenge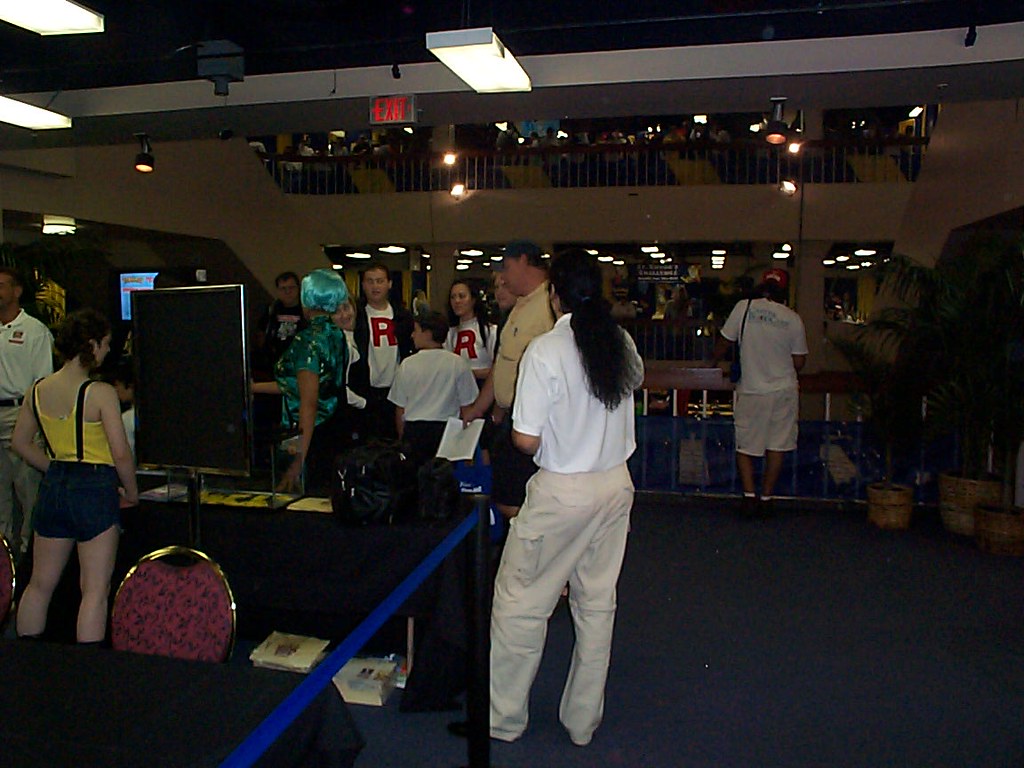 Brock's Challenge
Create Your Own Pokemon Card
Attendees were each issued a "Misty's Fun Zone" card. They could then trade this in for a giant blank Pokemon card template, energy symbol stickers, and art supplies. Using these, they could design their own Pokemon cards.
These cards were later displayed on the Wizards of the Coast website, where winners and honorable mentions were selected. A full gallery can be viewed in this article about Wizards Illustration contests.
Photo Zone
A giant Dark Raichu card was on display at both tournaments for attendees to take photos with. They were given the option of taking home a Polaroid photo or a floppy disk containing the digital file of their photo.
Pokemon Cars
Both the Pikachu Volkswagen Beetle and Lugia PT Cruiser were on display at the events for photos.
Legacy
The Super Trainer Showdown 2000 events were a big success for Wizards of the Coast's first premiere Pokemon TCG tournament. Despite some growing pains, it was successful enough that Wizards would host them again in 2001, which would lead to them hosting the first Pokemon World Champions in 2002.
Sources
A very special thanks to thunder_moo and Jon Brooks, who provided most of the scanned material from the 2000 STS West & East Coast events.